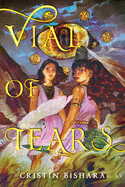 This captivating and immersive YA fantasy follows two Lebanese American sisters trying to escape a land of duplicitous shapeshifters, flesh-hungry beasts and feuding gods.
Seventeen-year-old Sam, her younger sister, Rima, and their mom are behind on rent. Then a package containing an ancient coin arrives from Mom's grandfather in Lebanon. The coin could be worth a lot, but when the sisters touch it, they are transported to the land of its original owner--the Phoenician underworld.
Sam, separated from Rima, is kidnapped by Eshmun, a half-god "with strange golden eyes," who needs the coin to go to heaven. Sam tells him that Rima has the coin and the deity agrees to help her find her sister, but makes no promise to keep the young women safe once reunited. Thus, when Sam is offered passage home if she steals Eshmun's healing tears, she agrees. Eshmun's own trust of Sam, however, is unguarded--even kind. But there's talk of a prophecy... Eshmun's uncle is the god of death and may not let Sam and Rima leave.
Vial of Tears by Cristin Bishara (Relativity) is a breathtaking story celebrating familial bonds. Ancestral tales overlace events and provide a satisfyingly rich tapestry of heritage. Sam and Rima are both strong female leads and use jaw-dropping gambits to protect each other. Bishara imbues the novel with humor such as Rima's response to landing in the underworld: "I stole lipstick from Walmart and this is what I get for it?" The author also employs lush worldbuilding--ruḥā, the dead, with voices like "dry leaves falling from trees"; marketplace vendors selling "spiced lamb rolled into lemony grape leaves"; and a nightmarish cave with stalactites like "ghostly fingers." A transportive and moving fantasy. --Samantha Zaboski, freelance editor and reviewer