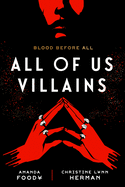 Christine Lynn Herman (The Devouring Gray) and Amanda Foody (Daughter of the Burning City) bring their darkly beautiful talents to All of Us Villains, an enthralling and bloody YA novel of secrets, betrayals, magic and murder.
In Ilvernath, high magick, "the purest essence of power," is controlled by one family. Every 20 years, seven cursed families must send a teen champion into a secret battle to the death to win the magick. This year, an anonymous author wrote a tell-all book about the families' clandestine route to power, giving haunting insights into the tournament's history. Now, for the first time, an enraged public is watching.
Each of the "Slaughter Seven" (as the tabloids name them) has their own reasons to kill to win: protecting family, restarting life on the other side of this tournament, being taken seriously. Among them are former lovers, ex-friends and mortal enemies, all with grudges informing their strategies and many secretly backed by the best local cursemaker. When an unexpected entrant suggests the tournament system is imperfect, the Seven must bury their base hostilities and lifelong distrust to see if the curse can be broken.
Foody and Herman enchant with vicious battles, a fun magic system and intricate, tenacious characters with deadly charm. Intense interactions precede the tournament, complicating individual motivations and making sympathetic the most brutal champions. Excerpts from the anonymous book add exceptional worldbuilding to the disturbing traditions, familial lore and generational rivalries. All of Us Villains is a suspense-filled, high-stakes magical battle royal with alliances that shift as quickly as they form, queer representation and pairings that will incite revelrous shipping. --Samantha Zaboski, freelance editor and reviewer