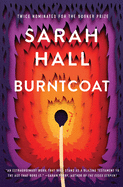 In Sarah Hall's fiercely realistic sixth novel, Burntcoat, a sculptor comes to terms with her mortality as she relives experiences of love and caregiving.
Edith Harkness, 59, knows she won't live to see her latest burnt-wood sculpture installed; she's still suffering the aftereffects of the deadly novavirus. Her studio, Burntcoat, was a refuge for her and her lover, Turkish restaurateur Halit, during the pandemic and lockdown, but became a prison as her illness persisted.
Marked by vivid detail and matter-of-fact prose, Edith's reminiscences skip around in time. Gradually, flashes of memory fill in a turbulent past: her beloved stepmother Naomi's recovery from a stroke, their life in a remote English cottage, an abusive relationship during art school, learning woodcraft in Japan and finding early critical success.
It is difficult to avoid reading this as a compact Covid-19 parable. Nova seems worse than Covid, both medically and societally--it's led to looting, violence and breadlines. Through Edith's chronic form, Hall (Madame Zero) imagines the long-lasting effects Covid may have on our societies.
While Hall's picture of human vulnerability--including the rigors and indignities of caregiving for the sick--is bleak, the laser focus on the physical is an opportunity for her to posit sex and creativity as means of coping with trauma and isolation and for building resilience. Death cannot obliterate art for, as the novel's defiant first line declares, "Those who tell stories survive." Unapologetically sensual and intellectual in the vein of Rachel Cusk and Siri Hustvedt, Burntcoat is a story for our times. --Rebecca Foster, freelance reviewer, proofreader and blogger at Bookish Beck