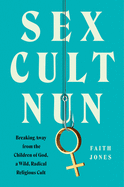 In her memoir, Sex Cult Nun, lawyer Faith Jones sensitively explores her traumatic experiences in the Children of God cult.
Also known as the Family, the religious movement--founded by her grandfather, David Brandt Berg--interpreted Christian scriptures to allow free love and link seduction with evangelism. Jones's father kept two wives. Growing up on a Family compound in Macau, Jones would sometimes accompany her mother on "flirty fishing" outings, and was encouraged to spend time alone with adult men and learned how to perform sexual favors.
Readers are sure to be compelled, despite some horrifying situations, because of how Jones re-creates her innocent child-self's point of view as a fluid present-tense narrative. This makes the Family's policies seem natural--this way of life was all she knew. And although her strict parents employed corporal punishment, her upbringing wasn't all bad: she vividly evokes the sultry tropical heat, the purposefulness of waking up at 4:30 a.m. to start farm chores and the feeling of being set apart from the "Systemites" outside the cult.
Only after mission journeys in Europe and Asia and a return to the U.S. for college did Jones awaken to the truth of the child abuse she suffered. It took a boyfriend using the word "rape" for her to realize she had been taken advantage of. This haunting memoir provides a thorough history of the Family as well as a personal record of a journey to understanding consent and being able to declare "I own me!" --Rebecca Foster, freelance reviewer, proofreader and blogger at Bookish Beck