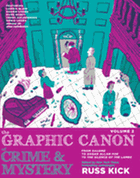 From Cain and Abel to The Silence of the Lambs, The Graphic Canon of Crime & Mystery, Volume 2 selects accounts of murder and intrigue and presents them as an eye-catching gallery of graphic shorts.
By employing a different illustrator for every piece, the book showcases the breadth of comics stylings. Landis Blair depicts Kafka's The Trial through detailed cross-hatch drawings, limericks and choose-your-own-adventure twists. It's one of several black-and-white renderings, alongside Rebecca (illustrated by Emily Rose Dixon) and "The Tell-Tale Heart" (illustrated by Dame Darcy). By contrast, Katherine Hearst's version of Chaucer's "The Pardoner's Tale" is in abstract watercolors, and Till Lukat's take on the Ellery Queen story "The Lamp of God" has a turquoise and magenta palette.
Within thematic sections such as "Killers" and "Revenge," pieces appear in chronological order. Editor Russ Kick's prefaces provide background information and an appreciation of the artist's approach. Most tales are extracted or condensed into 10-page segments. A few stretch to encompass the full plot, such as Anthony Ventura's adaptation of Shakespeare's gruesome Titus Andronicus. Some illustrators return to the source material rather than a better-known movie, as Rachel Leah Gallo does in a largely wordless reworking of Psycho.
Besides familiar names such as Arthur Conan Doyle and Dashiell Hammett, Kick highlights lesser-known authors like sensation novelist Mary Elizabeth Braddon (Lady Audley's Secret) and Emmuska Orczy, whose Lady Molly was an early female detective.
With styles varying from gothic to manga, this is a perfect tasting course for crime readers new to graphic novels. --Rebecca Foster, freelance reviewer, proofreader and blogger at Bookish Beck