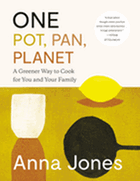 In her fourth book, One: Pot, Pan, Planet, English cook Anna Jones (The Modern Cook's Year) continues her mission of "putting plants at the center of your tables" through vegetarian recipes that prioritize local, seasonal ingredients.
Aiming for simplicity, Jones introduces dishes that are mostly simmered in one pot, fried in one pan or baked in one tray. Soups and stews reveal Asian influences like curry and congee. Chickpeas and tofu provide protein; chilies and spices add zing. Jones also highlights favorite vegetables, with 10 brief meal ideas for each. Easy substitutions make any of the recipes vegan.
Ingredients lists appear in a sidebar in a different font from the detailed instructions, which are in bold. The steps are reassuringly straightforward. The clean page layouts include one of Issy Croker's crisp photographs per spread. These generally depict a finished bowl from above, set against a bare kitchen counter or muslin cloth. From zucchini and halloumi fritters to a chocolate, olive oil and rosemary cake, the flavor combinations are enticing.
While some ingredients seem challenging to source (such as curry leaves or rice vinegar), the recipes focus on fresh vegetables. Jones believes people's eating choices are a major way they can respond to the climate crisis, so she offers tips on sustainability--which high-impact ingredients to use sparingly and buy Fairtrade--and ideas for using up leftovers in frittatas and sauces to avoid food waste.
The green approach makes this a perfect resource for eco-conscious eaters who want to choose more plant-based meals. --Rebecca Foster, freelance reviewer, proofreader and blogger at Bookish Beck