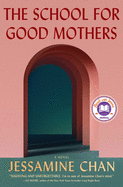 In this entrancing debut novel, Jessamine Chan highlights the many societal assaults on new mothers, who are often held to an almost unflinching and unrealistic standard of perfection: "A mother is always kind. A mother is always giving. A mother never falls apart." The School for Good Mothers immerses readers in an immaculately constructed dystopian future that is even more spine-chilling because of its close roots to contemporary society.
The protagonist, Frida, is a recently divorced Chinese American new mother who, while exhausted and overwhelmed, leaves her daughter unattended for a few hours. This lapse in judgment is a mistake that will not be tolerated by the unforgiving people surrounding her--from her neighbors to those in the justice system--and her daughter is taken away by child protective services. Frida herself is sentenced to one year in a live-in retraining program.
What follows is the imaginative and heartrending story of a mother's fight to be reunited with her child. Frida is not perfect, and that makes her utterly sympathetic. Readers are also introduced to other women, each with her own tragic circumstances that draw attention to the inequities plaguing the legal system.
The speculative elements create a sense of ominousness that permeates the story, underscoring that, unless today's society finds ways to treat mothers with compassion and provide them with assistance, a similar future is only steps away. --Grace Rajendran, freelance reviewer and literary events producer