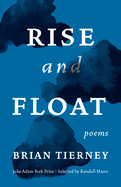 Brian Tierney's debut poetry collection, Rise and Float, was awarded the Jake Adam York Prize, selected by Randall Mann. Although it tackles heavy subjects like grief and mental health, the collection's candor and stunning images transform the melancholy into the sublime.
Much of the verse is in the first person, building an intimate portrait of the poet and his relationships. A family history of mental illness and electroshock treatment occasions a visit to a derelict psychiatric hospital. His father's death from cancer creeps into "Time and Tide," which describes "Carrara pears/ as hard as the tumor/ in my father's neck." "The Fly in the Bottle" and "Tailpipe" remember friends lost to suicide, while "bulimia" faces up to an eating disorder.
Recurring metaphors of holes dramatize a struggle against the void: "Inside, the hole waits." Holes mark absences, but perhaps also point to passageways. That faint hope infuses the poems, and Tierney's close attention lends beauty to bleak scenes. For instance, in "Migraine," a headache turns the headlights of the Pennsylvania Turnpike into "asterisks extravagant and huge" and roadkill into "a hammered pomegranate"--"in my eye all things look scintillant."
Finding such sparks of brightness in the shadows of life is what Tierney does best. Colors, flora and fauna supply the imagery; forms vary from prose paragraphs to the haiku-like fragments of "Anthropocene." The collection closes on an entirely unclichéd love poem, "You're the One I Wanna Watch the Last Ships Go Down With." Hard-hitting yet soft-hearted, this collection of 30 poems is a winner. --
Rebecca Foster
, freelance reviewer, proofreader and blogger at
Bookish Beck