photo: Joseph Zoboi
Ibi Zoboi is the author of American Street, a National Book Award finalist; Pride; My Life as an Ice Cream Sandwich; the picture book The People Remember (illustrated by Loveis Wise); and the Walter Award-winning novel-in-verse Punching the Air, co-written with Exonerated Five member Yusef Salaam. She is also the editor of the anthology Black Enough: Stories of Being Young and Black in America. Her middle-grade nonfiction debut, Star Child: A Biographical Constellation of Octavia Estelle Butler, is now available from Penguin/Dutton. Born in Haiti and raised in New York City, Zoboi lives in New Jersey with her husband and their three children.
On your nightstand now:
Honorée Fanonne Jeffers's The Love Songs of W.E.B. DuBois is an 800-page tome that makes me feel like a super reader. It's been a very long time since I've dived into a work of fiction this long, but I'm up for the challenge. I had to read a lot of books as a judge for the National Book Awards, so this year I worked on my reading stamina. Jeffers's language and epic storytelling style pulled me right in, and after reading a few pages, I'm ready to jump into my current work in progress. Good sentences and sweeping metaphors are inspiring, no matter what genre I'm working on. They remind me of what can be done with words and language.
Favorite book when you were a child:
My favorite books as a child happen to be the ones that I can remember. In the fourth and fifth grades, Are You There God? It's Me, Margaret and Blubber by Judy Blume. In middle school it was Pet Sematary by Stephen King. I'm sure I would have actual favorites if I had more access to books as a child. We didn't have a bookstore in my neighborhood, and I didn't go to my local library often because my mother was busy working. I think I got the Judy Blume books from my classroom, and Stephen King books were all over the place. I think my mother picked them up at the supermarket.
Your top five authors:
Octavia Butler for her visionary and unapologetically truthful storytelling.
Toni Morrison for how she captures the breadth and depth of the Black American experience.
Edwidge Danticat for how she portrays the Haitian experience with such grace, beauty and love.
Jacqueline Woodson for how she writes for all children with compassion.
Alice Walker for writing The Color Purple, which is one of my absolute favorite movies.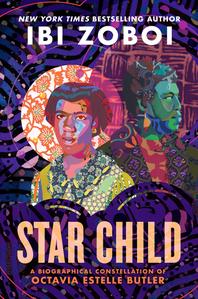 Book you've faked reading:
I don't do that. I'm always proud to say if I haven't read a book, especially ones by white men. I never had to fake read in high school, either. I managed to get by on SparkNotes for assigned reading like Shakespeare's King Lear and Stephen Crane's The Red Badge of Courage. It was way cooler to admit to not having read those books and then ace the tests.
Book you're an evangelist for:
Wild Seed by Octavia Butler, about African shapeshifters who keep their power and magic across time and space, while having their own power struggles. This book says so much about patriarchy and the true, innate power and magic of women.
Book you've bought for the cover:
The Gilded Ones by Namina Forna. The dark-skinned girl with all those beautiful colors and jewelry--absolutely stunning!
Book you hid from your parents:
Change "book" to "boys" and I'll tell you about the YA memoir I'm going to write.
Book that changed your life:
Parable of the Talents by Octavia Butler. I loved that book so much that I looked up everything about the author and found out we share a birthday. That's when I realized that I wanted to do whatever she does for a living.
Favorite line from a book:
"There is no self to save apart from us. What would my life be like alone like a beast of prey?" --from Two Thousand Seasons by Ayi Kwei Armah. I had to read that book in college for a course on African literature. It follows a group of young people in pre-colonial Ghana who escape being captured by European sea merchants. The book's main character says this line when her friends realize that she knew what was happening all along, but never told them. They asked her why she hadn't saved herself.
Five books you'll never part with:
Wild Seed by Octavia Butler
Two Thousand Seasons by Ayi Kwei Armah
Krik? Krak! by Edwidge Danticat
Beloved by Toni Morrison
The Ear, the Eye, and the Arm by Nancy Farmer
and one more brand-new fave: Me (Moth) by Amber McBride
Book you most want to read again for the first time:
A Wrinkle in Time by Madeleine L'Engle. After seeing the recent movie adaptation by Ava Duvernay, I want to revisit this book and read Meg as a Black girl. It will change how I experience this wonderful story.