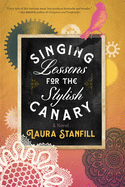 Singing Lessons for the Stylish Canary, Laura Stanfill's debut novel with a folktale style as lyrical as its melodious title, beckons readers to the rainy but inviting 19th-century French village of Mireville. The women of the town produce lace, and the men, specialty music boxes. Then suddenly a baby appears, one who exhibits magical powers.
On the day in 1814 when colicky Georges Blanchard stops crying, Mireville's waterlogged gloom ends as "gray gave way to blue with an ebullient gold centerpiece." Georges, hailed as the "Sun-Bringer," goes to New York at age 21 to secure orders for the famous Mireville serinettes, music boxes created to train canaries to replicate their songs. Georges is delighted when Delia, an irrepressible purveyor of canaries, welcomes him with a warm intimacy. He returns to Mireville to marry and then father Henri, a sensitive boy "longing to prove himself" to Papa. To Georges, Henri was "the music of his life. Except, as it turns out, another melody had taken root as well."
This whimsical historical fantasy belongs to Henri's generation, including Henri's best friend Aimee, the clever village girls of her Shadow Council of Apprentice Lacemakers and the other "melody," known only by Delia's letters from New York. Bursting with imagery ("Fall cranked itself into winter," writes Stanfill, "then spring, one season playing into the next without a rest or a breath mark between them"), the novel unexpectedly turns dark, then adventurous. One evil act drives both Henri and Aimee from France but, returning to its happily-ever-after mood of whimsy, the story journeys to a new world, with surprising assistance from a kindred spirit. --Cheryl McKeon, Book House of Stuyvesant Plaza, Albany, N.Y.