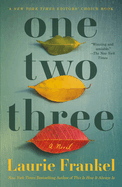 "One, Two, Three" are the "triplet shorthand" names Mab, Monday and Mirabel Mitchell call each other in Laurie Frankel's (This Is How It Always Is) heartbreaking yet heartwarming novel of a town destroyed by chemical pollution and its fight for justice, led by an unforgettable family of heroines.
The 16-year-old Mitchell sisters were born to a newly widowed mother in the wake of Bison Chemical's poisoning of the town's water supply. "Everyone here has survived what happened here," Mirabel explains (via a device mounted on her wheelchair). Monday, who speaks but without contractions, says "the only people who did not die or leave were the ones who could not." Mab, who peppers her speech with SAT study words, notes that Bourne Memorial High School "limps, rolls and motors in." Their mother, Nora, has been tenaciously building a class-action lawsuit for 17 years, while holding multiple jobs (one as the town's much-needed therapist); her daughters have a "sister-pact" to aid her fight. When Bison announces it will reopen in the town, and a handsome, suave boy--the grandson of its founder--enrolls in school, the sisters are dazzled yet pragmatic: maybe he's the key to the evidence Nora needs.
One, Two, Three--a Shelf Awareness Best Book of the Year and an Indie Next Pick--unfolds in alternating chapters, told by One, Two and Three, emphasizing the whip-smart girls' distinctive voices, sharp humor and mutual (yet never sappy) affection. Frankel adds a quirky but credible supporting cast of Bourne citizens. All the way to a fast-paced and heroic climax, readers will be rooting for them. --Cheryl McKeon, Book House of Stuyvesant Plaza, Albany, N.Y.