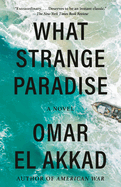 What Strange Paradise by Omar El Akkad--named a Best Book of the Year by Shelf Awareness, the New York Times, the Washington Post and NPR--is a tender drama for our times, featuring two children on the run from authorities on the serene Greek island of Kos. Written with a fluid beauty that captures nature's ferocious power and glory, El Akkad's exquisite second novel (after American War) offers readers a glimpse of the struggles of migration through the prism of childhood innocence.
The story opens with a boat and bodies, including a child, washed onto shore close to a luxury hotel, a horrific scene. Tourists gawk while police and soldiers inspect the wreckage, searching for survivors to take to the island's migrant prison encampments. The child, an eight-year-old Syrian boy named Amir, awakens. Fearful and disoriented by his surroundings, he flees into a nearby forest. Colonel Dimitri Kethros is in charge of "rounding up the illegals" on the island, and he is determined to track down the boy. Fortunately for Amir, he meets a local teenage girl named Vänna who offers to help him. As they grow to understand and respect each other despite language and cultural barriers, the sweetest of friendships forms.
What Strange Paradise glides back and forth in time, from Amir's earlier escape to Egypt with his family to his present-day predicament, crafting a poignant narrative of a young person constantly on the move, with forces beyond his family's control driving him farther and farther from home.
An Egyptian American journalist, El Akkad is a writer of global sensibilities, deploying his formidable craft to speak to the crisis of humanity at political borders. --Shahina Piyarali, reviewer