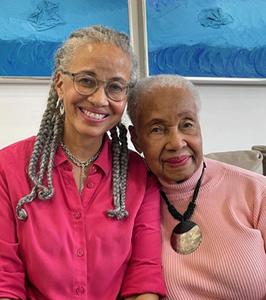 Linda Villarosa (l.) and Clara Villarosa (photo: Izzy Best)
Linda Villarosa is a journalism professor at the City University of New York and a contributing writer at the New York Times Magazine, where she covers the intersection of race and health. Her article on maternal and infant mortality was a finalist for a National Magazine Award, and her second book, Under the Skin: The Hidden Toll of Racism on American Lives and on the Health of Our Nation (Doubleday), grew out of her research and writing for that article. Clara Villarosa, an NAACP Image Award nominee, founded the storied Hue-Man Experience Bookstore in Denver, Colo., in 1984 and later opened a Hue-Man location in New York City's Harlem. A former board member of the American Booksellers Association, Clara Villarosa currently curates the Hue-Man Experience at Denver's Tattered Cover Bookstore. Shelf Awareness invited mother and daughter to reflect upon what books have meant and continue to mean to their experiences.
Clara, what kind of books did you read to Linda and her sister Alicia?
Clara Villarosa: I didn't have or know about any Black children's books at the time, so I read the classics like Are You My Mother? and The Cat in the Hat.
Linda Villarosa: Learning to appreciate books really stuck with me. During the summers when school was out, I would spend most of my time in our local library in Denver. In junior high I won the Book Worm Award for reading more books than any other kid over the summer. I still have the certificate.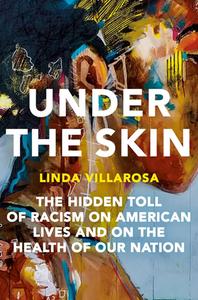 Linda, did you always want to be a writer?
LV: Yes, but my mom tried to steer me away from writing as a career.
CV: I wanted her to be a lawyer. I was worried she would be broke as a writer.
LV: Yes, she pushed me to be a lawyer. After one year of pre-law, I told her I didn't want to go to law school after college--I wanted to be a journalist.
CV: She said, "If you're so interested in law, you should go to law school," so I did. I studied law for two years, though I never finished.
How did you end up opening a bookstore?
CV: I was trained as a psychiatric social worker, and later was an administrator for a children's hospital. When the girls were older, I was the vice-president of a bank. In 1984, I ended up getting let go from that job and used my severance to open a bookstore, Hue-Man Experience in Denver.
What did you think when your mom opened Hue-Man?
LV: Mom had no experience as a bookseller, but she is a high achiever and very determined at whatever she does. Eventually, she grew her store into the country's largest Black bookstore. I feel like I contributed by introducing her to some of the Black feminist books I had read in college in Black Studies classes, like When and Where I Enter by Paula Giddings and Black Macho and the Myth of the Superwoman by Michele Wallace and Some of Us Are Brave by...
CV: It's But Some of Us Are Brave [edited by Akasha (Gloria T.) Hull et al.].
Clara, how did you end up in New York City from Denver?
CV: I sold the store in Denver, retired and decided to move to New York City in 2000 to be closer to Linda, her sister and my grandchildren.
LV: Though we were all in Brooklyn, she insisted on living in Harlem. She wanted to be in the capital of Black America.
CV: I ended up getting talked into opening another Hue-Man bookstore, on 125th Street, after the chains refused to place stores in Harlem. With my partners, I ran that store until 2004, when I really retired.
Tell us about your first book, Body & Soul: The Black Women's Guide to Physical Health and Emotional Well-Being.
LV: I had been the health editor of Essence magazine, thinking deeply about African Americans and health and wellness. In the early 1990s, I went to the TH Chan Harvard School of Public Health on a fellowship, where I became grounded in the principles of public health. Those experiences convinced me to write Body & Soul, which I pitched as a sort of Our Bodies, Ourselves for Black women. It was published in 1994.
How did you feel, Clara, when Linda published Body & Soul?
CV: Very proud! I advised her about the cover. The publisher wanted mostly type. I told her to put photos of people on the cover, so that the images would make the book pop in stores. She listened, and that book sold well.
What do you think of Linda's journalism?
CV: Are you kidding? I am so proud. Her stories in the New York Times Magazine are very long and it takes me days to get through them. But I've saved all of them.
How do you come up with your stories, Linda?
LV: I generally start with a statistic that bothers me. In 2017, a friend told me that the United States is the only wealthy nation where the number of women who die as a result of pregnancy and childbirth was rising--and that Black American women were three to four times more likely to die or almost die than white women. I knew I had to do the story when I learned that education doesn't protect Black mothers: a Black birthing woman with an advanced degree is more likely to die than her white counterpart with only an eighth-grade education.
What did that statistic tell you?
LV: That something about the lived experience of being Black in America is dangerous for Black mothers and their babies, and that I wanted to be the person to cover it.
Can you talk about the 1619 Project?
LV: I was honored to be involved in this project, the brainchild of my colleague Nikole Hannah-Jones. I wrote about how medical myths about Black enslaved people, invented by white physicians to justify slavery, have endured in modern medical education and practice. When the original project was expanded and published as a book last year, I spent quite a bit of time updating and expanding my essay to include the pandemic.
Have you been affected by the controversy?
LV: All of us have. My essay and the book were intentionally grounded in truth and facts, making it difficult to actually challenge--though many continue to do so. I prefer to focus on the teachers, students and librarians who are grateful to be able to use the book and the 1619 curriculum as teaching tools to tell a more complete story about slavery and its aftermath as well as celebrate the contributions of African Americans.
How did you decide to write Under the Skin?
LV: As a journalist I over-report, and each draft of my New York Times Magazine stories--on HIV/AIDS, maternal and infant mortality, Covid-19, life expectancy and environmental justice--needed to be trimmed way down before they could run. Whenever my editor would suggest cutting, she would say, "Save it for the book." At first, I was like, "I'm not writing a book." But then I thought about all the things I still had to say about Black Americans, health and race, and realized, why not write a book?
How did your mom influence this book?
LV: I learned a lot from my parents. Before she was a bookseller, my mom was a hospital administrator. My father was a bacteriologist, and my sister and I grew up hearing stories about medicine and health care at the dinner table.
CV: Don't forget about the cover.
LV: Yes, my mom's voice was in my ear reminding me that images on covers attract attention in bookstores. I remembered her advice when working with my publisher on the cover of Under the Skin.
Have you read Linda's book?
CV: Not yet.
LV: I didn't want her to read the uncorrected proofs. But once the finished book is ready, there's one thing I am sure she'll like.
CV: What?
LV: It's dedicated to you and Dad.