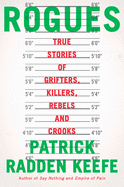 In Rogues: True Stories of Grifters, Killers, Rebels and Crooks, Patrick Radden Keefe (Say Nothing; Empire of Pain) collects a dozen thoroughly investigated and engagingly reported articles on a fascinating assortment of characters--from the merely colorful to the criminal--that he produced for the New Yorker between 2007 and 2018.
The breadth of his writing--insider trading in the pharmaceutical industry ("The Empire of Edge"); the dogged search for the last of the plotters who brought down Pan Am Flight 103 over Lockerbie, Scotland, in 1988 ("The Avenger"); the byzantine activities of a notorious international arms dealer ("The Prince of Marbella")--reveals the scope of his curiosity and his confidence that he can make these subjects both comprehensible and compelling.
Rogues also showcases Keefe's affinity for tales of heinous crimes. "A Loaded Gun" recounts the chilling story of Amy Bishop, a neurobiologist at the University of Alabama in Huntsville who murdered three of her colleagues after she was denied tenure, and how that horrific event triggered a fresh investigation into her involvement in the death of her brother more than two decades earlier. Keefe also brings the conventional celebrity profile to life in "Winning," the story of reality television pioneer Mark Burnett and the role The Apprentice played in Donald Trump's political rise.
In these and all the other pieces in Rogues, Keefe painstakingly unearths and shares the details that render diverse true stories as engrossing as fiction. --Harvey Freedenberg, freelance reviewer