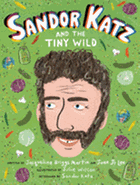 Authors Jacqueline Briggs Martin and June Jo Lee (Chef Roy Choi and the Street Food Remix) reunite with a zesty, inspiring new look at an ages-old approach to eating in Sandor Katz and the Tiny Wild.
An HIV diagnosis in 1991 prompted native New Yorker Sandor Katz "to join a community of queer folks in the woods of Middle Tennessee" where he "stressed less, gardened more... and felt better." A bumper crop of cabbage there called to mind the sauerkraut of Katz's youth and he chopped, squeezed, salted and packed crocks of fermented "super-delicious kraut-chi!" Katz's revivalist approach of "no-heat cook[ing] with microbes" ultimately made him an international sensation. He expanded his kraut-chi repertoire to other global fermented foods and learned lessons from international friends that Katz still shares through classes at the Tennessee farm.
Martin and Lee incorporate quotes from Katz throughout their energetic, onomatopoeic text. Comics-style pops add scientific or contextual information, and the authors are respectful in framing Katz as an enthusiast and not originator of fermentation techniques: "In China, Sandor learned a new-old way to make pickles." Making her picture book debut, Julie Wilson's casual, enthusiastic, earth-toned illustrations suit the subject and Katz's effervescent personality. The entertainment value here is rivaled by expansive backmatter including an afterword by Katz addressing readers, a visual guide to kraut-making, long author and illustrator notes (including ethnographic research) and additional resources.
A fizzy and informative celebration of fermentation that enthusiastically supports curious experimentation and food literacy. --Kit Ballenger, youth librarian, Help Your Shelf