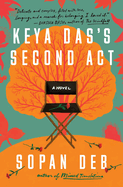 New York Times journalist Sopan Deb (Missed Translations) turns to fiction in Keya Das's Second Act, exploring how parents and children can become detached and, perhaps, discover new paths to lasting connections. As an Indian American with a New Jersey upbringing amidst familial challenges, Deb's empathic affinity ensures an exquisite first novel.
Keya Das has been dead for five years. She was the younger of two daughters of an Indian American family in suburban New Jersey. She was just 18 and had "the grades to go to Harvard." She was in love with her best friend, Pamela, and had come out to her family. Her parents reacted negatively, and the month-long silence that followed finally became too much. "We need to make sure that she knows we love her, first and foremost," Chaitali said. "We will tell her everything is okay," Shantanu added. But their remorse came too late; Keya was killed in a car accident.
The family splinters. Shantanu and Chaitali divorce. Chaitali marries someone else. Meanwhile, Shantanu ponders selling the empty family house. Clearing the attic, he finds a wooden box filled with folded notes, clipped-together papers, things he was never meant to see. Some of Keya's most intimate memories are contained within. Those surviving words will be the miraculous impetus for, if not closure, then dramatic understanding for her left-behind loved ones.
Deb writes with effortless openness, even as he confronts what are certainly many of life's deepest tragedies: the loss of a child, the breaking of bonds, the betrayal of trust. Insightful, resonating, surprisingly funny, Deb's own second act could earn him a standing ovation. --Terry Hong, Smithsonian BookDragon