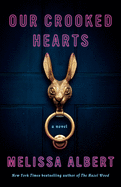 Vivid prose pairs effortlessly with an engaging slow-burn mystery in this eerie, dual-timeline thriller from Melissa Albert (The Hazel Wood).
Seventeen-year-old Ivy starts her first day of summer break with a busted lip--her ex-boyfriend swerved to avoid a naked girl in the middle of the road at 3 a.m. Ivy can't get the girl's "uncanny gaze" out of her head, and she is further unnerved when she finds a decapitated rabbit. Ivy thinks her mother, Dana, is at the center of the disquieting incidents. Sick of her mother's "silences and... secretive bullshit," Ivy is determined to unearth what Dana's been hiding.
Fifteen-year-olds Dana and Fee are best friends. Dana can "feel things. Objects, places, the contours of them and how the air moved through" and Fee always knows what people need, whether it's a glass of water or a bottle of aspirin. When the pair meets 17-year-old Marion, a novice occultist, their gifts soar. But an attempt at a spell to increase their magical potency summons a powerful dead occultist instead--the blowback is so long-lasting, even Ivy can't escape it.
In Our Crooked Hearts, Albert deftly uses a creepy, atmospheric story about dark magic to explore the complexity of mother-daughter relationships and how one deals with the consequences of one's actions. Albert effortlessly weaves Dana's and Ivy's stories together in alternating chapters ("Right now" and "Back then"), eventually aligning them to reveal dark interlocking truths. The dual points of view help build suspense as Albert slowly pulls back the curtain on the secrets between mother and daughter. Albert's creativity and imagination shine through in her world-building and lush language, leaving readers with a spellbinding, skin-tingling sensation. --Lana Barnes, freelance reviewer and proofreader