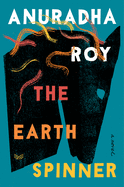 In The Earthspinner, award-winning novelist Anuradha Roy (All the Lives We Never Lived; The Folded Earth) offers an intricate look at creative passion, fanaticism and the precarity of living on the brink of change. While at university in England, Sara, a pottery student, looks back on her childhood teacher, Elango, and the events that changed both of their lives.
For a year and a half, while teaching her to throw her first pieces, Elango was also consumed with crafting the terracotta horse that haunted his dreams. As Elango works tirelessly on his horse, his life in his small town in southern India is changing. He finds comfort in a mysterious and loving dog called Chinna as he falls desperately in love with Zohra, a Muslim girl forbidden from marrying a Hindu like him. As Elango's masterpiece nears completion, tensions rise in the community, and Elango and Sara are both left to wonder if love, truth and art can ever possibly be enough.
Like Roy's other novels, The Earthspinner uses dreamlike lyricism alongside even-handed description, giving its gradual accumulation of tension a mesmerizing cadence. While the novel's main plot takes place during Sara's childhood and during the fateful summer and fall when Elango completes his horse, the story's frame narrative of Sara at university and the occasional epistolary interjections from the woman whose lost dog becomes a permanent fixture in Elango's and Sara's lives gives the piece a larger scope and greater texture.
The Earthspinner is a kaleidoscopic glimpse into the fragile web of connections and ruptures, divine convergences and missed opportunities that make up life's unpredictable and breathtaking pattern. --Alice Martin, freelance writer and editor