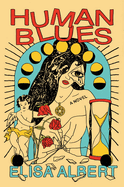 Elisa Albert confronts sensitive topics in a provocative, darkly humorous style, addressing postpartum introspection in After Birth and death in The Book of Dahlia. Taking on infertility in Human Blues, she introduces readers to feisty singer-songwriter Aviva Rosner, who yearns for a baby but fiercely rejects the technology of "assisted reproduction."
In nine chapters, each following Aviva's menstrual cycle--which she calls "the bleed" and a "fresh disappointment each and every time"--she addresses the frustrations of not being pregnant: "It was unbearable. (Ha!) It was inconceivable. (Oh yes.)" Firmly refusing the "profitable technology" of child-engineering, she irreverently scorns the absurdity of egg-selling, gender-selecting, surrogacy and "assisted evolution," citing the inherent "mucho cash and laboratory hijinks" and their moral ambiguity. Fan reaction to her album Womb Service brings unsolicited testimonials of successful interventions; her sardonic reactions include a darkly hilarious running spoof of these babies' names--Seahorse, Harpoon and Styx among them. Aviva's distinctive supporting cast includes her devoted husband, Sam ("Sammy-Sam," her "manny-man"), who is steadfast and a high school teacher, and her counselor, "the Rabbi," a colorful and consistent foil for her thoughts. An obsessive enthusiasm for the late performer Amy Winehouse offers another dimension to the whip-smart and endearing Aviva.
Each chapter nurtures readers' hopes that Aviva will conceive, while delivering emotionally resonant reactions to monthly disappointments. Ever-creative Aviva's "fever of want" breaks, and she "sat like a proud hen on thirteen fine new songs. A wonderful cycle of songs. How fertile she was!" She considers naming her next album Vessel of the Void, a metaphor typical of the comic yet tragic tone of this fiercely smart, poignant novel. --Cheryl McKeon, Book House of Stuyvesant Plaza, Albany, N.Y.