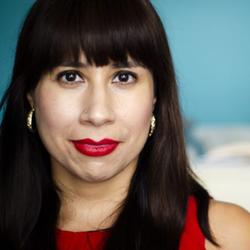 (photo: Adriana Diaz)
Erika L. Sánchez is an acclaimed poet, novelist and essayist. Her debut poetry collection, Lessons on Expulsion, was a finalist for the PEN America Open Book Award. Her debut young adult novel, I Am Not Your Perfect Mexican Daughter, is a New York Times bestseller and a National Book Award finalist. Sánchez is a recipient of a National Endowment for the Arts Fellowship in Poetry, the Sor Juana Inés de la Cruz Chair in the Latino Studies Department at DePaul University, and serves on the inaugural core faculty of the Randolph College Low Residency MFA Program. In her memoir, Crying in the Bathroom (Viking; reviewed in this issue), Sánchez deploys humor and sensitivity to explore her immigrant Mexican-American identity.
Crying in the Bathroom is suffused with deeply felt gratitude, even when you discuss devastating periods in your life. What is the secret to always remembering to be grateful, no matter what the circumstances?
I wish I were naturally grateful, but it's a skill I've had to hone for many years. As a young person, I was so angry at the world, but I wasn't entirely sure why. Now that I'm almost 40, I am fully aware of what I'm angry about. This knowledge is such a gift because I now understand my place in the world and make changes. I often tell my students that transformation is earned. Growth requires discomfort. Having gone through so many difficult times has taught me that where I am right now is such a gift. I love my life. I love my career, myself and the family I've created. I heard or read somewhere that happiness and gratitude are the same thing. Suffering is an inevitable part of being alive, but it can teach us so much if we let it. Gratitude for me is a daily practice. I remind myself how far I've come.
If you could spend a day with your younger self, what advice would you share with her about friendship and love?
I'd say, "Girl, break up with that loser!" No, but for real, I would tell her that she deserves much more than the scraps she accepts. I wanted so much to be wanted that I ignored a lot of red flags. "Trust what you know" is a phrase I tell myself often. My intuition is very, very accurate and I have learned to trust it. Finally! That's how I found my husband. Also, don't be friends with people who are not kind to you. This was a hard lesson for me to learn. If someone can't be happy for me, then they're not my friend. It's so simple, but I needed experience to learn this.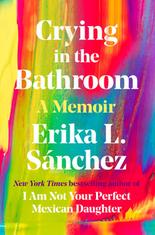 As a mother raising a young daughter, which aspects of your ancestral heritage are you most eager to share with her?
I love so much of my culture. I want my daughter to be hospitable to our friends and family. Our house is where people often gather, and I want her to see what it's like to make people feel welcome. Another trait Mexican women often possess is making sure everyone eats, whether they want to or not. I learned this from watching the women in my family; the difference now is that my husband is equally involved, which is not something I ever saw growing up. Also, she is learning Spanish in daycare and with my parents. I want her to be bilingual because having two languages at my disposal has been so beneficial to my life and writing.
Global travel has played a pivotal role in your life. Will it play an equally central role in your daughter's upbringing?
Travel has made my life so much more meaningful and interesting. I've learned so much about the way others live and how I see myself. It provides so many perspectives that can't be replicated in any other way. I'm so lucky that I have the means to expose my daughter to different cultures. I named her Sojourner, so I'm expecting her to love travel as much as I do. I can't wait to have some mother-daughter trips as soon as she's potty trained. My husband and I have talked about taking the kids to Mexico every summer. We want them to be immersed in the culture and we also want to cultivate an appreciation for other cultures.
You are generous with helping emerging writers find their way to literary success. Was there anyone in your life who offered you similar guidance?
I've had so many people help me along the way--teachers, professors, mentors, family, friends. I wouldn't be here without their help. Here's an incomplete list of some of the writers and editors who have truly been there for me: Rigoberto González, Sandra Cisneros, Eduardo Corral, Jen Fitzgerald, Rachel Kahan, Juan Felipe Herrera--and many others. They made me feel like my writing mattered. Many of them talked me through some really challenging times, particularly when I felt that I would never make it as a writer. Some of these poor souls had to endure many tearful phone calls.
In the essay "Do You Think I'm Pretty? Circle Yes or No," you write about perceived physical imperfections in a world where beauty is defined by men. What will it take for women to be free of patriarchal standards of beauty?
I don't know if we will ever be fully free, but it's something that we should strive for. One thing that I want to teach my daughter is that there is more to life than being pretty. (I shudder at the thought of her relentlessly posting pictures on social media.) I don't want her to get hung up on how she looks and forget there's so much more to being a person. It's important for young women to base their self-esteem on qualities and abilities. Beauty isn't only physical. It's the way you show up in the world and how you treat others. You have to love your spirit before anything else. That takes work.
If you had the opportunity to host a dinner party for two of your literary idols, Virginia Woolf and Toni Morrison, who else would you invite and what would you serve for dinner?
Man oh man! I would love to add Gabriel García Márquez and Gloria Anzaldúa. I'd serve an elaborate and labor-intensive Mexican meal that includes mole rojo, rice, beans and tres leches cake topped off with a very strong cup of coffee. We'll smoke cigarettes and cackle into the night.... I'm going to pray this comes to me in a dream.
As you release your memoir into the world, what do you most hope readers will take away from it?
I hope that readers will feel connected to it on a human level. We all suffer, though our circumstances may be very different. Specifically, I want Latinas to feel seen. Many of us are trying to heal deep generational trauma. There's so much we haven't been allowed to say or do, and I hope this memoir can help them live more loudly and authentically. --Shahina Piyarali, reviewer