As has been the case for many years now, the field of comics & graphic novels includes great fiction, memoir and nonfiction, in titles for both children and adults. Here Shelf Awareness highlights a few additional favorites we reviewed earlier this year.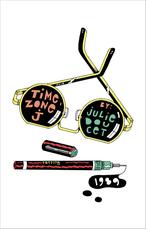 Julie Doucet won the 1991 Harvey Award for Best New Talent and seemingly disappeared from the comics world in 2006. With Time Zone J (Drawn & Quarterly, $29.95), Doucet makes "an intense, electrifying diary-inspired autobiographical" re-entry. She instructs readers, "This book was drawn from bottom to top. Please read accordingly." Every panel-less, borderless page overlaps into the next, so that if the pages could be lined up, long edge to long edge, the effect would be that of a continuous scroll.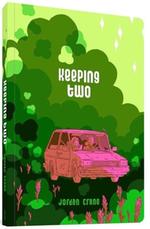 Jordan Crane spent more than two decades creating Keeping Two (Fantagraphics, $29.99), a "magnificently multilayered graphic novel that empathically addresses the universal human fears of losing those most beloved." The events take place over a single evening, as the story introduces, challenges and reconnects lovers Connie and Will. Crane presents his panels--mostly six-on-a-page--in an unusual palette of lime-to-forest green washes over line drawings. Nature, especially plants and trees, is hinted at throughout, culminating in magical woody scenes near the story's end.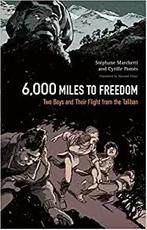 In the "stunning graphic odyssey" 6,000 Miles to Freedom: Two Boys and Their Flight from the Taliban (Graphic Mundi, $26.95), author/director Stéphane Marchetti, adapts the narrative from his 2017 documentary with Thomas Dandois, Les enfans de la jungle, illuminating the wrenching experiences of two refugee boys. Award-winning comics artist Cyrille Pomès infuses every panel with the dynamic motion of their flight, and Hannah Chute, fast becoming a go-to translator of graphic works, deftly enables French-to-English access. The title refers to 12-year-old Adel and his 16-year-old cousin, Shafi, as they escape Afghanistan and journey to the Pakistan/Iran border en route to Europe, Marchetti's urgent text informed by testimonies of refugee youth.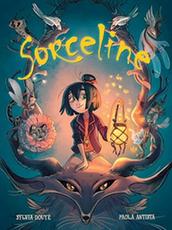 Another standout translation, this one aimed at middle-grade readers, Sorceline (Andrews McMeel, $12.99) is the first English-translated work by Sylvia Douyé, a compilation of three Sorceline graphic novels already published in France. Ivanka Hahnenberger translates the volume, as Sorceline eagerly awaits the first day of her summer apprenticeship studying cryptozoology with Archibald Balzar on the Isle of Vorn. Under Balzar's tutelage, Sorceline will learn all about various cryptids and how to care for them. A classmate's disappearance, though, sets off a chain of bizarre and dangerous mysteries. Paola Antista brings to life this unusual world in a "manga-influenced illustrative style" that depicts cryptids from Roman, Greek, European and Persian mythology and folklore. "Her characters and creatures are expressive and the format features broken, overlapping and asymmetrical panels that help move the plot along at a rapid pace."
The "prescient, thrilling, unusual and occasionally hilarious graphic novel" (also for middle-graders) Little Monarchs by Jonathan Case (Margaret Ferguson Books, $14.95) uses scrapbook-style content to tell the story of two of Earth's human survivors of a sun shift that causes a fatal sickness in mammals in 2101. Elvie, a plucky 10-year-old, and her wry, brilliant guardian, Flora, follow migrating monarch butterflies along the west coast of the United States. Their vital, life-sustaining purpose is to harvest scales from the butterflies' wings to use in a medicine to prevent sun sickness and--they hope--to develop a vaccine. Case employs a blend of journal entries, maps, diagrams, scientific illustrations, instructions on celestial navigation and hammock-hanging, and tips on foraging and scavenging to allow Elvie to narrate her "strange yet normal daily experience."
These graphic memoirs, love stories and tales of stewardship of the planet are not to be missed!