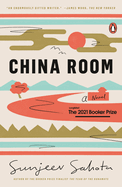 China Room, the outstanding third novel by Sunjeev Sahota (The Year of the Runaways)--longlisted for the Booker Prize and named a Best Book of the Year by NPR and Time--ends with a black-and-white image of an older woman holding a crying infant. That photo is the dual narrative's pivotal connector: a "great-grandmother... who'd travelled all the way to England just so that she might hold... her newborn great grandson." Sahota magnificently weaves together the stories of rural Punjabi ancestor Mehar and her British descendant, whose "I"-voice reveals both his story and the stories he can never know.
In 1929, 15-year-old Mehar is one of three girls wed to three brothers. None of the brides knows which is her betrothed; all are controlled by the men's widowed mother, Mai. The girls share the china room--named for Mai's wedding dowry plates--to sleep, except when Mai summons one wife to join one husband in a "windowless chamber at the back of the farm," so dark that the girl still can't distinguish the brother she's with. Pearls, procured to encourage fertility, will cause both boundless joy and everlasting tragedy.
Seventy years later, Mehar is gone when her 18-year-old great-grandson arrives from England to spend the summer before university with an uncle and his wife. He's "too skinny, too pinched, too drawn," and his all-too-obvious alcohol (and more) addiction causes his removal from his relatives' house to the abandoned ancestral home. There he finds shelter and solace in the china room. An iconoclastic woman doctor and an opinionated teacher become unexpected regular visitors. Stories and companionship will heal his soul.
China Room is no effortless read, but one that promises to haunt and illuminate. --Terry Hong, Smithsonian BookDragon