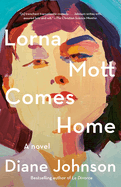 Diane Johnson (Le Divorce; Le Mariage; L'Affaire) specializes in comedies of manners centered on American women in pursuit of excitement and romance in unfamiliar locales, often across the Atlantic. Lorna Mott Comes Home is an inspired inversion of the premise: it's a reentry saga revolving around an American abroad who has decided that it's finally time to return Stateside.
As the novel opens, 60-something Lorna Mott Dumas is flying home to San Francisco after spending 18 years in a village in southeastern France with her French husband. She will miss neither her husband's philandering nor her outsider status. Formerly a respected art historian known for her spellbinding lectures, Lorna is hoping to revive her career in San Francisco for reasons of both economy and self-respect, but the road is rocky.
Sorely lacking in toughness are Lorna's three grown children, all of whom are in Northern California: they've each made financial messes of their lives that they would like someone else to clean up. Able but apparently unwilling to help is their father, Lorna's first husband, Ran Mott, who has remarried into staggering Silicon Valley wealth. To Lorna's torment, Ran seems indifferent to his offspring other than the product of his second marriage, 15-year-old Gilda, who, early on in the novel, serves her parents with a surprise that ultimately affects the extended Mott clan--even Lorna.
Lorna Mott Comes Home is a dishy drama with crystalline sentences and a roving point of view that can't help but give the delicious impression that characters are talking about one another behind their backs. --Nell Beram, author and freelance writer