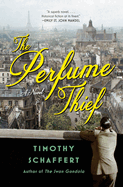 For many queer men and women--such as narrator Clementine--Paris "had been invented for us, inspired by imaginations," but that was before the Nazi occupation. This is illustrated in the intoxicatingly vivid The Perfume Thief, Timothy Schaffert's sixth novel.
A perfumer, former thief and an American expatriate in her 70s, Clementine easily moves among Paris's bordellos and cabarets, concocting fragrances based on personal experiences, the memory of an old lover, the ticking of a pocket watch, a field of bluebells. It's dangerous business, as Nazi soldiers often lounge at the bordellos, giving prostitutes luxuries taken from Jewish shopkeepers who have now disappeared; the Nazis' largess could--and will--vanish at any moment.
Clementine returns to crime when she's asked to steal the diary of a well-known perfumer that contains formulas that may date back to Cleopatra. The mission is to keep the book from the Nazis, especially bureaucrat Oskar Voss, whose ruthlessness Clementine uses for her own purposes. For Clementine, perfumes reveal personalities, are useful as codes to military secrets and essential as escapism, allowing one "to slip away into tranquility, into that part of your brain where all the awful things get hushed."
The Perfume Thief lyrically savors the myths and lore of fragrance "made of whispers, of secrets written in the cream of your coffee," wrapped in a gripping historical mystery. Schaffert (Devils in the Sugar Shop), a professor at University of Nebraska-Lincoln, delivers an unusual, clever tale that captures the nuances of Paris under occupation, featuring resilient characters fighting for the city's soul. --Oline H. Cogdill, freelance reviewer