Ghost Eaters by Clay McLeod Chapman (September 20, $20.99, 9781683692171).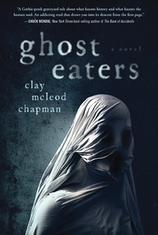 In 2019, book, film and TV writer Clay McLeod Chapman made his horror debut with The Remaking, a true-crime-inspired tale that explores how the real-life horrors behind urban legends permeate and inform society and pop culture. Chapman's 2021 follow-up, Whisper Down the Lane, centered on the McMartin preschool trial and Satanic Panic of the 1980s that created a hysterical culture primed by paranoia to believe the unbelievable. Now, Chapman returns with Ghost Eaters, a propulsive page-turner that uses a supernatural form of addiction to reckon with the complicated legacy of the South and the darkest corners of our psyche.
Set in Richmond, Ghost Eaters is about a grieving 20-something who finds herself agreeing to a pill-popping seance that promises to reunite her with a friend she lost to addiction.
The consequences of opening a door to the dead are horrifying and will leave readers rushing to find out the haunting horrors of ghosts—whether they're real, imaginative, or memories of the injustices perpetrated by our ancestors.
Jhanteigh Kupihea, Quirk Books' senior v-p, publisher, calls Ghost Eaters "a perfect example of my ambitions for our fiction list. On its face, it's a high-concept horror novel that could be adapted into a Blumhouse movie, but it's essentially a meditation on addiction borne out of grief and the weight of history--both personal and political. It's an absolute page-turner--I think most horror and thriller readers will read it in two sittings and won't hesitate to describe it as fun, despite its weighty themes. But it's also substantial, purposeful, and has a lot to say about how we're currently negotiating all kinds of big cultural conversations right now. This is Clay's third book with Quirk Books and it's been a joy to see his readership grow and his mission catch on with the horror community. He's really setting the tone for our fiction list in general, which is less about mashing up genres and more about using the tropes of each genre we publish into to help us process the world we live in today."
What's Your Grief?: Lists to Help You Through Any Loss by Eleanor Haley, MS, and Litsa Williams, MA, LCSW-C (September 27, $19.99, 9781683693024)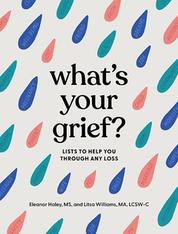 At a time when people need to cope with even more disruptions and losses than usual, particularly because of the Covid-19 pandemic, What's Your Grief helps grievers examine and investigate the complex but universal experience of grief with 75 bite-sized, manageable lists. Mental health professionals Eleanor Haley, MS, and Litsa Williams, MA, LCSW-C guide readers through grief one step at a time, making an overwhelming experience digestible while sharing insights from their more than 24 years of combined professional experience, as well as lessons learned from the millions of readers who visit their website whatsyourgrief.com each year.
Nicole De Jackmo, Quirk Books' senior v-p, sales, marketing and publicity, calls What's Your Grief an example of a new kind of Quirk book that also has roots in the classic Quirk approach. "We've always done books rooted in pop culture and always somewhat unconventional," she says. "But that doesn't mean we can't take on bigger, more serious subjects." What's Your Grief was influenced by the pandemic, when founder Dave Borgenicht was pondering grief and noticed that most books on the subject are basic and "always have a sunset on the cover." This book, by contrast, focuses on all kinds of grief beyond the loss of a loved one--"any type of loss that puts you in a period of mourning and grief," De Jackmo continues. "We are still going to do fun, humorous books, but will be seriously entertaining and make an impact in whatever manner we can. This book will be impactful for people struggling with loss but it's not clinical."
How to Win the War on Truth: An Illustrated Guide to How Mistruths Are Sold, Why They Stick, and How to Reclaim Reality by Samuel C. Spitale, illustrated by Allan Whincup (October 25, $22.99, 9781683693086)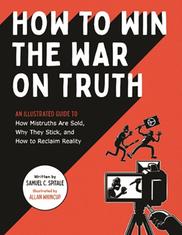 Jhanteigh Kupihea calls How to Win the War on Truth another Quirk title that's "tackling the biggest and most fraught of cultural conversations." The book is "essentially a guide to understanding what propaganda is and how the tools of propaganda have been exploited by American politicians and corporations since World War II, but it's presented in a highly accessible graphic format, which makes it perfect for Quirk's list. Big ideas are broken down into bite-sized, digestible pieces so that you can better absorb how and why we got to our current political moment, which is really just one long moment that's been building since Reagan. It's perfect for progressives who want to get their family and friends on board, liberal grown-ups who are a little sheepish to admit that they don't understand the political and financial mechanisms that have shaped our country, and older high school and college students who are learning about all of this for the first time."
Samuel C. Spitale is a writer with a Master's degree in Media Studies who frequently contributes to Huffington Post, Geek magazine, io9 and Advocate.com. He has worked at Lucasfilm in global product development and as a managing editor in the publishing division. This is his first book.
Allan Whincup is a former art director who works as an illustrator and designer. His projects include logo design, character design, storyboarding, and creating assets for animation. He has also worked on games, CD covers, and comics.
The Worst-Case Scenario Handbook: Apocalypse... Now What? (Spring 2023)
Quirk founder Dave Borgenicht conceived and co-writes The Worst-Case Scenario Handbook series. For over 20 years, Quirk has been behind-the-scenes helping to package the series and despite the series' age, it's stronger than ever. This year the interactive museum exhibit that premiered in 2019 is back on the road touring nationally and The Worst-Case Scenario Card Game launched and became a Target bestseller. And in the Spring of 2023 Quirk will be publishing its first book in the series: The Worst-Case Scenario Handbook: Apocalypse... Now What?--a guide book to handling any catastrophic event one might encounter, with step-by-step instructions from real-life expert accompanied by the series' signature humor to lighten the mood.