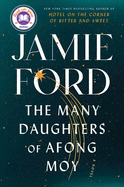 The Many Daughters of Afong Moy, the fourth novel from Jamie Ford, features--like his brilliant earlier works (Love and Other Consolation Prizes; Hotel on the Corner of Bitter and Sweet)--fully realized, tenderly portrayed characters who populate a historic, multigenerational tale. In 1834, on "the shriveled flowers her feet had become," 14-year-old Afong Moy is sent to New York from China as a curiosity. Based on a real woman, she is the first of seven women (who are fictional descendants) in this novel with both historic and speculative plotlines.
A question links the nonlinear chapters: Could epigenetic inheritance, the passing down of trauma through DNA, also influence other destinies? The fascinating concepts of this are summarized by an epigenetic counselor in the year 2045, who counsels Dorothy, a descendant of Afong: "each generation is built upon the genetic ruins of the past." Heartbreak comes to Moy women: Lai flees a plague in 1892 San Francisco; military nurse Faye suffers the cruelties of World War II in Kunming, China; Greta struggles to build a groundbreaking tech company in Seattle in 2014. It's Dorothy's desire to combat her chronic depression and her willingness to try an experimental program at a clinic called Epigenesis that brings hope for future Moy women. Her treatment awakens unexplained vivid memories, familiar to readers who have "met" Afong and her descendants.
Moving back and forth through more than 250 years, this meticulously crafted novel offers assurances, such as a familiar poem or a line of music, that a family lineage's most resilient memories can be not of trauma, but of love and hope. --Cheryl McKeon, Book House of Stuyvesant Plaza, Albany, N.Y.