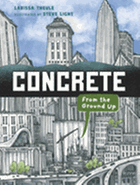 Concrete: From the Ground Up is an informative and occasionally offbeat homage to a humble building material with enormous architectural implications. Larissa Theule (Kafka and the Doll) and Steve Light (Have You Seen My Dragon?) offer inquisitive readers historical context with amusing sidenotes while explaining the impact of concrete on human-made building.
Concrete--"a composite building material"--and concrete-like material had various non-structural uses spanning continents and millennia before its current iteration. Ancient Romans added volcanic ash to already existing mixtures and found the extra-strong result allowed for "large-scale structures such as aqueducts" and massive buildings like the Colosseum and Pantheon, challenging architectural conventions. An 18th-century experiment led to the rediscovery of the lost Roman recipe and "reintroduced concrete to the world." The final portion of the book surveys notable concrete structures including the Berlin Wall and Sydney Opera House.
Theule differentiates concrete from cement (one of its ingredients) while providing some environmental context for ancient building practices. She carefully explains sophisticated concepts and includes informative and humorous asides delivered in speech bubbles so as not to inundate readers with technical text. Some terms--such as barrel vaults, relieving arches and oculus--are unexplained, so previous knowledge of architecture will prove helpful. Light's use of white space in between highly detailed pen and ink, watercolor and ink splatter illustrations keeps the visual information from being overwhelming and helps slow page turns to match the text's pace. Backmatter includes a bibliography.
This is an accessible and entertaining explanation of an everyday resource readers might not otherwise think to examine, perfect for fans of David Macauley's work. --Kit Ballenger, youth librarian, Help Your Shelf