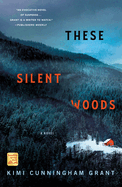 These Silent Woods by Kimi Cunningham Grant (Fallen Mountains) skillfully depicts a man struggling with fatherhood and PTSD in an evocative, suspenseful story that gains its strength from powerfully drawn characters.
A remote cabin in an isolated area of the Appalachian Mountains has offered an idyllic way of life but also been fraught with complications for army veteran Cooper and his bright eight-year-old daughter, Finch, in Grant's enthralling third novel. The move was both a spontaneous and well-planned decision for Cooper, whose violent episodes brought on by PTSD had become frequent. After Cooper's girlfriend--Finch's mother--was killed in an accident, her wealthy parents took custody of the then months-old baby. Cooper forcibly took the girl and settled off the grid on land owned by his former army buddy Jake.
Here, no one goes by a last name. Father and daughter hunt, grow some food and raise chickens; each winter, Jake brings a year's worth of supplies, clothes and books that Finch devours. But Jake disappears, forcing Cooper to reevaluate his decisions. He ventures into the outside world, tormented that he will be arrested for kidnapping Finch.
Grant's lyrical writing and a deep understanding of her characters propel These Silent Woods. Isolation has calmed Cooper, though the occasional panic attack still rears; he's unable to rid himself completely of his "wounds on the mind." More importantly, fatherhood has grounded him. He is an excellent parent, though he worries that eventually this life will become "too small" for the inquisitive Finch--fears that are realized when a stranger appears.
Unconditional love and redemption elevate the thoughtful These Silent Woods. --Oline H. Cogdill, freelance reviewer