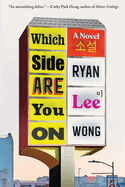 In Ryan Lee Wong's dynamite debut novel, Which Side Are You On, set in Los Angeles, with its history of race riots, an Asian American college student committed to social justice rethinks how best to live out his ideals in the real world.
Reed and his Brooklyn friends are staunch Black Lives Matters activists. Their latest cause is protesting the killing of a Black man by an Asian American police officer (the actual 2016 killing of Akai Gurley by Peter Liang). Reed has devoted so much energy to following the subsequent trial that he's now on academic probation. In fact, he intends to drop out of Columbia University to take up full-time activism. That is, until he goes home to Los Angeles for a few days.
When his brassy mother picks him up from LAX, they head straight to the care home to visit her mother, who has suffered a stroke. Meanwhile, Reed's mother proceeds to poke holes in her son's self-righteous attitude. She cofounded a Black-Korean Coalition in the 1980s, and knows firsthand that nothing is ever simple; situations that appear clear-cut are more complicated when you get to know people and understand their motivations. Reed's father, a Chinese American employed by a union, shares her history of community organizing. They don't want their son repeating their mistakes.
Full of vibrant characters, this punchy story offers no simple answers to ongoing racial conflicts. The portrait of a sanctimonious young man who wakes up to the reality of generational trauma and well-meaning failure is spot-on. --Rebecca Foster, freelance reviewer, proofreader and blogger at Bookish Beck