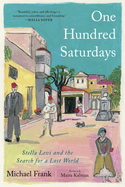 Michael Frank's One Hundred Saturdays is the emotionally stunning biography of Stella Levi, one of the last Jewish survivors of the Greek island of Rhodes. Levi's beloved Juderia, Rhodes's Jewish quarter, spanned about "ten, twelve square blocks in all," cobblestoned streets and courtyards smelling of "jasmine and rosemary, lavender and roses and rue."
At one of their first meetings--eventually becoming 100 Saturdays over the course of six years, Frank asks Levi to share her life story. "Possibly," she says. "But not the camps.... I don't want to be that person." Levi recalls her youth: weddings, Yom Kippur, Passover, the frisson of first love. The image of her packing a suitcase at age 14 to be ready for university echoes throughout the book. Levi eventually describes her deportation to Auschwitz, among the 1,650 Jews collected from Rhodes, and her survival of five different camps.
Maira Kalman's gouache paintings in burgundies, yellows, blues and greens depict moments both small (wearing an outfit her sister sent from "Ah-merica") and life-altering ("The window [that] was the last thing Stella saw that connected her to the Juderia").
This biography, winner of the Jewish Book Council's Natan Notable Book Award, pins to the page a lost world preserved in the carefully captured memories here. --Samantha Zaboski, freelance editor and reviewer