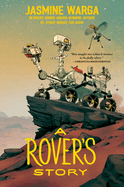 A Mars rover bravely completes his mission in Jasmine Warga's endearing, character-driven middle-grade novel A Rover's Story.
Resilience dutifully receives code and undergoes tests in a NASA laboratory to prepare for his space mission. He is "built to make good decisions" and "to avoid the problems of humans." The rover, though, takes particular interest in scientists Rania and Xander, from whom Resilience learns human emotions and behaviors including trust, fear and gratitude. Meanwhile, Rania's daughter, Sophie, writes unsent letters to Resilience in which Sophie processes her own complex feelings around her mother's attachment to her work and, as the years of the rover's mission pass, other major life events. Fellow computers warn Resilience "that Mars is no place for human emotions," but Resilience's bravery ultimately enables him to take risks that lead to the mission's success.
With very short chapters and five well-paced parts, Newbery Honor author Warga (Other Words for Home) deftly alternates perspectives between Sophie and Resilience, paralleling Resilience's child-like wonder with Sophie's emotional growth. Warga thoughtfully balances the technical aspects of this STEM story with social-emotional nuance in an uncommon and approachable blend that lends warmth and tenderness to even the more logical side characters. She credits real Mars rovers as inspiration in an author's note with additional resources for curious readers.
This Wall-E reminiscent story is an empathetic next step for fans of The Wild Robot and a natural fit for kids curious about space exploration and the unknown. --Kit Ballenger, youth librarian, Help Your Shelf