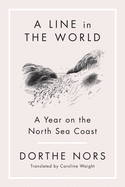 For readers whose knowledge of Denmark is confined to Copenhagen and its environs, Danish writer Dorthe Nors's A Line in the World will come as a revelation. In 14 eloquent, observant essays that combine journalism, nature writing and memoir, Nors paints a vivid portrait of a remote and rugged territory whose striking scenery masks more than its share of dangers.
Though the essays describe a year of episodic travels, Nors (Mirror, Shoulder, Signal; Karate Chop) forgoes a strict chronology. Instead, from the Wadden Sea in the south to Skagen at its northern tip, she hopscotches along the 600 miles of what she calls "one of the world's most dangerous coastlines," at the western edge of the peninsula known as Jutland, where she grew up and lives today.
Nors's interests range widely, encompassing history, religion, sociology, culture and an assortment of scientific disciplines. In "The Timeless," for example, her description of the day she and her artist friend Signe Parkins, whose drawings enhance the book, spent viewing rural church frescoes, she touches on the status of women in traditional Danish society, and describes how her mother's youthful dreams of pursuing an artistic career were frustrated and only realized, in part, in adulthood.
Nors's prose, translated from the Danish by Caroline Waight, is both economical and expressive. When she's writing about nature she has a pleasing knack for engaging all the senses, and when she turns to some aspect of her family history, her candor is seasoned with a pinch of Scandinavian reserve. A Line in the World will appeal to a wide audience of discerning and curious readers. ---Harvey Freedenberg, freelance reviewer