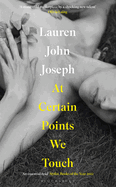 Lauren John Joseph is extraordinarily talented on many fronts. At Certain Points We Touch, their first proper novel (after the experimental work Everything Must Go), distills those talents into a queer, autofictional love story both haunting and hilarious, and crystallizes Joseph as a literary artist of the highest caliber.
The exceedingly eloquent narrator, JJ, was born to be a storyteller, but whether that dream is waylaid or fostered by their impulsivity is anyone's guess. JJ bounces from London to San Francisco to New York City to Mexico City, couch-surfing in friends' apartments and wig-swapping their way through gay nightclubs and art galleries. If there is one constant in JJ's eclectic adulthood, it is Thomas James, "a disco Lothario," a sulky bad boy, the man who forever captured JJ's heart.
Thomas James is a cool customer, aloof and brooding. He is skeptical of queer labels in general, and he is critical of JJ's progressive politics. He bears every red flag like a badge of honor, both infuriating and enchanting his lover. Yet despite their crossed stars, JJ and Thomas James enjoy an explosive sexual connection that infuses every scintillating line of this exceptional novel.
At Certain Points We Touch ruminates on themes of love, loss and queerness with such a mature sense of craft that one can almost hear the scratch of a calligrapher's stylus as they painstakingly etch this elegy to a dead lover. Born out of passion and grief, the novel aches to be the last word on the untimely death of Thomas James, and the emptiness he left in JJ's soul. Lauren John Joseph has produced a masterpiece. --Dave Wheeler, associate editor, Shelf Awareness