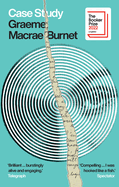 A psychological drama blurring the lines between fiction and reality, Case Study by Scottish author Graeme Macrae Burnet (His Bloody Project) centers on a disturbed young woman in 1960s London and her interactions with her late sister's psychotherapist, a charismatic Northerner named Collins Braithwaite. Burnet's fourth novel is a cleverly crafted investigation of sanity and identity, set against the backdrop of social upheaval in London at the dawning of the "Angry Young Men" era.
Longlisted for the 2022 Booker Prize, Case Study begins by informing readers of Burnet's literary fascination with Braithwaite, "an enfant terrible of the so-called anti-psychiatry movement of the 1960s," and shares chapters from his biography of the man as he rises to the peak of his profession despite a chaotic personal life. These chapters alternate with excerpts from a set of old notebooks narrated by an unnamed woman whose sister, Veronica, took her own life while she was Braithwaite's patient and who claims that Braithwaite is guilty of criminal malpractice in letting it happen.
While Braithwaite's biography is a fascinating character study of a brilliant mind flirting with disaster and debauchery, it is the young woman's notebooks that will mesmerize readers. Lacking the confidence to confront Braithwaite with her allegations, she creates an alter ego, an alluring femme fatale named Rebecca Smyth.
Burnet's deployment of multiple narrative structures, his finely tuned depiction of Braithwaite, and the fascinating revelations of the diarist result in an unforgettable story, one that will rattle readers long after its startling, disorientating ending. --Shahina Piyarali, reviewer