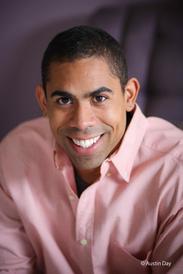 Daniel Bernstrom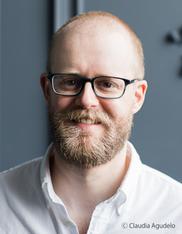 Brandon James Scott
Daniel Bernstrom is an accidental picture book writer. He repeated first grade because he could not read. Today, Bernstrom writes picture books that have been nominated for several state reading awards, and he teaches as a full-time English instructor at Minnesota West Community and Technical College.
By day,
Brandon James Scott
is a Creative Director working in animation; by night, he illustrates picture books. For more than a decade, Brandon has worked on a range of animated entertainment including his own creation, the award-winning series,
Justin Time
. A born and raised Canadian, he lives with his family in Toronto.
Here the two creators discuss their sly and snappy picture book A Bear, a Bee, and a Honey Tree.
Daniel Bernstrom: Brandon, you were on vacation. Welcome back!
Brandon James Scott: Thanks! I got back from taking my family to a cottage--which, as a Canadian, is a must-do thing each summer. Going in the lake, campfires... it's the best.
Bernstrom: I did that a few times. I remember roughing it out in the Alaskan wilderness for a week. Caught salmon from the stream, fought off mosquitoes, avoided bears, canoed down the river. Scarred me forever.
Scott: What are you talking about, that sounds amazing. Wait. Did you say bears?
Bernstrom: Yep, saw a couple. Why--do you like bears?
Scott: I think of all the animals that you might run into out there in the world, the bear is just so strong and demands respect. I also like how they look when they're grumpy.
Bernstrom: I love your grumpy bear drawings. What got you started in illustrating?
Scott: When I was young, I loved to draw. And I realized early that the more I did it, the better I got. I became the "art guy" in elementary class and I stuck with it.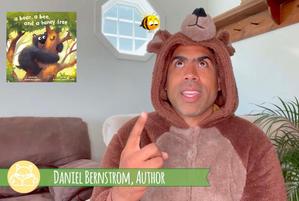 Bernstrom: I love how funny your art is. There are little jokes everywhere. Are you funny in real life?
Scott: I'll say I find it very hard to take most things seriously.
Bernstrom: I keep hearing that our book's ending is "controversial." Explain why?
Scott: Well, the ending feels just right to me. However, it isn't spelled out--you have to look closely at the last page to get the full story. (Dun-dun-dunnnn.)
Bernstrom: For my part, I wanted the promise of resolution: the bear going back for the honey. But I knew for the ending to work, the illustrator needed to see things his way. You did just that. I remember when our editor Jill Davis said, "There needs to be a bear on the last page." I said, "Jill, look closer." The surprise was exhilarating.
Scott: And that reminds me how supportive and collaborative you were. It's a joy as an illustrator to be able to bring your own extras through images. I wanted to thank you--and Jill and art director Amelia Mack--for that!
Bernstrom: I think artists see so much. That's why I felt it important to not get in the way. Speaking of Amelia, what's it like working with her?
Scott: Amelia was awesome--she was involved in a wonderful way to make the story stronger. Sometimes when you're at the picture stage you can get caught up with "does this look good" or "can this look different" but taking a step back even further and asking "does this support the story" is the most important thing, always.
Bernstrom: I remember you two focusing on the eyes of the bear and bee to tell so much of the story. Or was that your idea?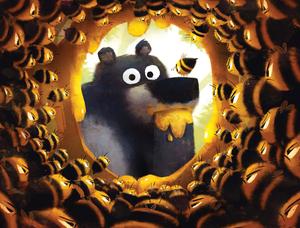 Scott: We talked about that a lot. Eyes are such a big part of characters. One thing I love to do is to make a character's eyes say something different than what the text might imply, just to add another little dimension. Bears, bees... we're all complicated. What was it like working with Jill?
Bernstrom: Working with Jill is like taking a masterclass in picture book writing. She'll never let me get by with a "sloppy" or "redundant" word. She wants every word to glow, and every word needs a VERY good reason to be there. She works with the author to make that happen. She also loves making books funnier.
Scott: She's so great. Do you think we'll see any other adventures for this bear?
Bernstrom: I hope so! I have five or six bear ideas. He's such a fun character, especially after you made him come alive. You game for illustrating more?
Scott: Have you seen my art? Half of my work has bears in it.
Bernstrom: If we do another, I'll have to visit you in Canada, and you can show me what's so fun about the outdoors.
Scott: Deal. We'll call it field research.