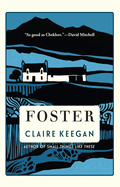 Foster by Irish writer Claire Keegan (Antarctica) is a slim novel that resonates with emotional depth. It is the story of a young girl in rural Ireland, sent to stay with relatives for a summer. This edition of Foster, winner of the prestigious Davy Byrnes Award when it was published in 2010, is the novel's first publication in the U.S. It follows the success of Keegan's Small Things Like These, which was shortlisted for the 2022 Booker Prize, the shortest novel ever nominated.
One of many children of a father who drinks "a liquid supper" and a mother "hard with the next baby," the unnamed protagonist describes her Da delivering her to the Kinsella farm, leaving "without so much as a good-bye, without ever mentioning that he would come back for me." His parting words are: "I hope this girl will give no trouble." She recognizes she's in a remarkably different home: "Here there is room, and time to think." The Kinsellas are also different. Mrs. Kinsella stresses she won't be working and washes the girl in water "deeper and hotter than any I have ever bathed in"; the girl notes that the woman's hands are "something I have never felt before and have no name for." Secure in this pastoral life, the girl, whom Kinsella affectionately calls "petal," thrives--all the while dreading the end of her time there.
Keegan's spare prose conveys both love and sorrow. The novel's apparent simplicity belies its poetic exploration of childhood heartbreak, loss and love. Though the ending is ambiguous, there is no doubt the Kinsellas and the girl are forever linked by the joy of their shared summer. --Cheryl McKeon, Book House of Stuyvesant Plaza, Albany, N.Y.