Hippo Park's debut list reflects the joyful, surprising, often befuddling and endlessly fascinating world children live in. Editorial director Jill Davis says, "We want to make the kind of books kids ask for again and again--with stories that tickle their funny bones, respect their intelligence and support their need for emotional connection. Our focus is on what children see and feel when they open up our books and look inside--words and ideas that are funny, silly and often true, and illustrations that convey emotion when words might not. We like to say that we take silly seriously, and we hope our books will bring children wonder and delight."
Jill talks about each of the books she'll be gifting this holiday season.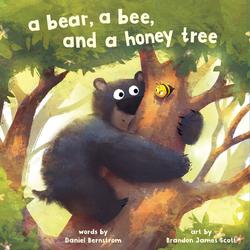 A Bear, a Bee, and a Honey Tree by Daniel Bernstrom, illus. by Brandon James Scott (Hippo Park, $18.99, hardcover, 40p., ages 3-7)
Brandon James Scott's young, funny and lush artwork paired with Daniel Bernstrom's spare, rhyming text is going to steal hearts! The text and illustration work as one, making A Bear, a Bee, and a Honey Tree feel like an animated short. It's definitely a crowd-pleaser for story time: a classic read aloud in a nice big trim size with delicious characters that really pop and anchor the appealing art.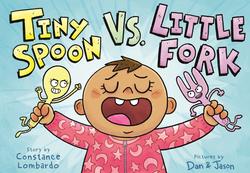 Tiny Spoon vs. Little Fork by Constance Lombardo, illus. by Dan Abdo and Jason Patterson (Hippo Park, $18.99, hardcover, 48p., ages 4-8)
I'm delighted to share the bubble gum colors and comic ebullience of Tiny Spoon vs. Little Fork. This is a book about how rivalry can lead organically to teamwork--hoorah! It's also my fifth book with the marvelous Constance Lombardo, which is very much worth celebrating.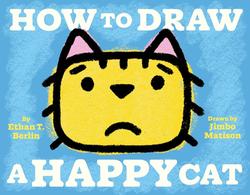 How to Draw a Happy Cat by Ethan T. Berlin, illus. by Jimbo Matison (Hippo Park, $18.99, hardcover, 40p., ages 4-8)
The book takes the form of a drawing lesson that goes off the rails when Cat--who's been drawn with a happy face--WON'T STAY HAPPY! And now you, the reader, have to fix it! A gentle and mischievous narrator pulls you along, and also pulls your chain! For all the action-packed laughs and screw-ball fun in this book, there's also a social emotional message that even the grown-ups will appreciate: How burdensome it can be to take on the task of making others happy!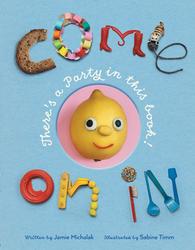 Come On In: There's a Party in this Book! by Jamie Michalak, illus. by Sabine Timm (Hippo Park, $18.99, hardcover, 40p., ages 4-8)
Just look at this cover with its peek-through window for dear, sweet Lemon. Come On In is the dessert of this launch list. The conceit: Lemon really wants to go to the big party, but each time she opens a door, there's a small group of... cats in boots! Or fruits in suits! But they're celebrating all by themselves! So, where's the party where everyone is together, mixing it all up and having a blast? After arriving at home, sad and alone, she has an idea of her own--to shake up the book and shout COME ON IN! And all the creatures from behind the doors "come on in" for one big unforgettable fiesta! Sabine Timm's photographs of fruits, cakes, bread creatures and all types of miniatures have earned her almost 170,000 Instagram followers and I knew I had to find a collaborator for her. I was so happy when Jamie Michalak created a story for Lemon that brings her and her friends to life.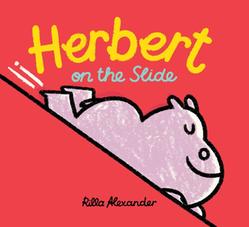 Herbert on the Slide by Rilla Alexander (Hippo Park, $9.99, hardcover, 24p., ages 2-5)
This is the start of an adorable series called the Hippo Park Pals. We were so smitten with Herbert, the handsome hippo created by Rilla Alexander for our logo, that we suggested a series to Rilla. We considered the ecosystem of the playground and our audience emerged as 2-to-5-year-olds who, now walking and talking, are desperate for independence. We knew these weren't board books for chewing on, they had to be precious, special and make little kids feel big. Each book has a dust jacket with flaps, and 32 pages of a satisfying story. It's the perfect stocking stuffer!