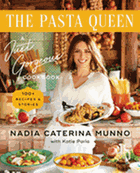 Nadia Caterina Munno draws on centuries of tradition from her pasta-making Italian forebears, not to mention her social media fame, in The Pasta Queen: A Just Gorgeous Cookbook. With more than 100 recipes plus lush, full-page photographs of Munno and her culinary creations, this debut cookbook will delight both home cooks and Munno's TikTok, Instagram and YouTube fans.
"Pasta is my love language," writes Munno, who cites stories from the southern Italian village of her ancestors, a place known for its pasta factories. After successful careers in England and Italy, Munno and her husband moved to Florida, where she devoted herself to cooking and sharing the "just-gorgeous recipes" of her heritage. The Pasta Queen's easy-to-follow recipes fall into five inspiring groups, including "Recipes for Comfort" and "Recipes to Impress." The "passion cooking" she devotes to "every stir... and every garnish" is reflected in her recipe names: "Goddess of Love," made with tortellini, a pasta shape allegedly inspired in ancient times by Venus's belly button, includes butter, heavy cream and prosciutto, all of which contribute to a "godlike cloak" for the pasta, and "The Snappy Harlot" relies on a Calabrian chili paste, which Munno describes as a "slightly hot aphrodisiac." Gluten- and dairy-free recipes don't exclude flavor and sensuousness, as in the "Vegan Lady of the Night" with its "heat of summer" ingredients--tomatoes, eggplant and capers.
"All you need is love--and a little pasta magic--to show your nearest and dearest how much you care," Munno emphasizes in a cookbook that's liberally infused with her zest for food and life. --Cheryl McKeon, Book House of Stuyvesant Plaza, Albany, N.Y.