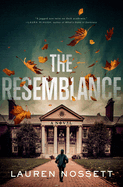 The fact that tales of hazing and womanizing cycle through The Resemblance, a thriller centered on a University of Georgia fraternity, will probably surprise no readers. But the daringly dark turn that Lauren Nossett's sturdy fiction debut takes toward the book's midpoint will likely come as a shock.
From the first, The Resemblance seems destined to assume the shape of something it ultimately isn't: a straight-ahead procedural. Homicide detective Marlitt Kaplan is visiting her mother, a German professor, in her office at UGA when a car fatally hits a student at an intersection on campus. Witnesses say the black BMW didn't slow down before the crash and fled the scene right after impact. But two peculiar details distinguish this accident from a typical hit-and-run: witnesses report that the BMW's driver was smiling and that he looked an awful lot like the victim.
The victim is UGA junior Jay Kemp, a member of Kappa Phi Omicron. Once Marlitt learns that Jay was a frat brother, she starts ticking off possible motives for the murder: "Revenge for hazing fits neatly at the top of my list, followed by stealing someone's girlfriend, and your run-of-the-mill brotherhood rivalry." But as Marlitt proceeds with interviewing members of Jay's fraternity, her initial, obvious theories crumble. If they hadn't, she wouldn't have had to endure the calamity that engulfs her about halfway into the book.
The Resemblance is an alluringly somber and satisfying thriller. While the book doesn't present a counterpoint to Marlitt's disdain for fraternities, it's also true that nothing that happens in The Resemblance would make good marketing copy for Greek life. --Nell Beram, author and freelance writer