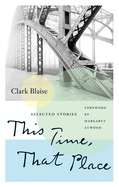 The work of Canadian American writer and teacher Clark Blaise isn't widely known outside the world of those who regularly consume short fiction in literary magazines. But now, with the publication of This Time, That Place: Selected Stories, a collection of 24 stories drawn from some 50 years of his writing, readers have a fresh opportunity to encounter the work of a writer whose literary talent is evident in every one of these well-crafted tales.
Born in 1940 in North Dakota to Canadian parents, Blaise spent his childhood and adolescence in nearly constant movement. That peripatetic existence is reflected in the variety of settings for these stories, encompassing some of the places where his family landed, including steamy and openly racist rural Central Florida in the 1940s ("Broward Dowdy" and the slyly comic "The Fabulous Eddie Brewster") and Pittsburgh in the 1950s ("Grids and Doglegs," the charming story of a high school nerd's memorable prom date with the girl of his dreams).
Not surprisingly, a sense of displacement and rootlessness haunts many of his protagonists. Blaise treats that subject most directly in a trio of stories involving the character Phil Porter--his name while living in Pittsburgh--but who becomes Philippe Carrier when his family must flee back to his Montreal birthplace after his father assaults a fellow employee.
Blaise's stories are shapely and full of keenly observed details that bring their often unglamorous settings to life. For those unfamiliar with his work, This Time, That Place will come as an especially pleasant discovery. --Harvey Freedenberg, freelance reviewer