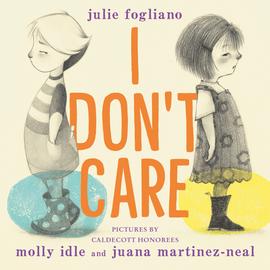 Molly Idle is the author and illustrator of the Caldecott Honor book Flora and the Flamingo. She is also the author/illustrator of Tea Rex, Pearl, Coral and Witch Hazel. Idle lives with her fabulous family in Tempe, Ariz.--where she can most often be found with an espresso in one hand and a pencil in the other, scribbling away on her next book.
Juana Martinez-Neal is the author and illustrator of the Caldecott Honor book Alma and How She Got Her Name. She also illustrated Tomatoes for Neela by Padma Lakshmi; Fry Bread: A Native American Family Story by Kevin Noble Maillard, which won a Robert F. Sibert Medal; and La Princesa and the Pea by Susan Middleton Elya, for which she won a Pura Belpré Illustrator Award. Martinez-Neal lives in Connecticut with her family.
Here, Idle and Martinez-Neal discuss I Don't Care (Neal Porter Books), a picture book written by Julie Fogliano and illustrated by both artists. Below, the friends talk about how their "best-friendshipness" helped them develop two characters who grow from not caring about each other at all to caring quite a lot.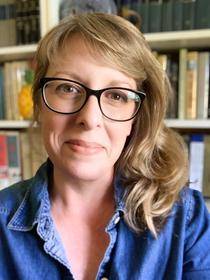 Molly Idle
One story, two characters, two artists. Tell us how this project came about.
Molly Idle: Neal [Porter, the book's editor] sent me the first half of Julie's manuscript which starts:
i really don't care what you think of my hair
or my eyes or my toes or my nose
i really don't care what you think of my boots
or if you don't like my clothes
The "i" and "you" immediately put me in mind of a conversation between two people who, at first glance, seem very different, but who are very much alike. And I thought, That's me and Juana! Then I thought how wonderful it could be if each of us drew upon our individual perspectives to actually draw our friendship.
Juana, this is awful but I can't remember if I asked you first if you'd be willing to collaborate, or if I asked Neal and Julie [Fogliano] through Steve [Malk, Idle and Fogliano's literary agent] if they'd be okay with us co-illustrating, and then asked you. I just remember hope, hope, hoping that you'd say yes.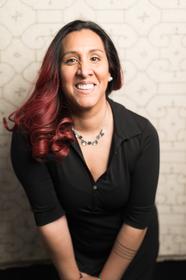 Juana Martinez-Neal
Juana Martinez-Neal: I'm the type of person who goes by her first reactions and wanted to scream, "Yes!" But this time, I paused. I was nervous. Who wouldn't jump on the opportunity to do something new and fun with their best friend? But I was afraid of breaking our friendship in the process of bookmaking. I'm glad I shyly texted, "Sure."
How did your process work?
Idle: We agreed that the first thing that we needed to do was to decide who "didn't care" about what. There was a line or two that each of us felt a particularly strong connection to, so we assigned ourselves those parts of the conversation and worked outwards from those to decide which character was speaking. Once we had the text divvied up, we started thumb-nailing sketches.
Martinez-Neal: At this stage, we each had already designed our characters. We knew what they looked like, and most definitely knew how they would act and react in different situations, so we moved to thumbnails. Working on the first round went very fast and, I have to say, was a super fun stage of the process. It was all about emotion, cadence, pattern and rhythm. I tackled it with no hiccups and passed them on to Molly. She had new ideas. We ended up having a third pass where we took from round one and two and added new beats that fit better with the book.
Idle: Then it was time to make the finished art. Juana is an amazing painter. Colored pencils are my medium of choice. But we wanted to be on equal footing when it came to making the art. Like Julie writes in the book, "i really do care that you always play fair." We decided to create the characters with graphite, a medium we both feel equally at home with. That left us free to focus on the collaborative process of co-illustrating--which was new to both of us! Stepping out of one's comfort zone can be scary, but it's much less scary when you're with a friend.
Martinez-Neal: We are both traditional artists. Since we were opting to use graphite only, the paper we selected was an important decision. We went over many descriptions of different papers to consider weight, texture and color. We each kept a list of our favorites that we exchanged and ordered them all. As the besties that we are, we chose the same paper.
As for adding some color to the pieces, we wanted to keep it simple, so we each picked our favorite color. Molly used teal. I went with yellow. The overlapping of both gave us the green that grows throughout the book representing their growing appreciation and love for each other, much like it happens in real life.
How long have you known each other? Do you feel that this project brought you closer together?
Idle: Sixteen years this fall. Can it really be 16 years? Yes, because my boys were two years old and two months old at the time. Juana's boys were three and one. It was so exciting to meet someone who was not only an incredible artist, but also a new mom. The first thing I asked her was, "Does it get easier?" Juana looked me straight in the eyes and said, "No." Artistic talent and unflinching honesty? I knew in that moment I wanted to be her friend.
Martinez-Neal: Sometimes people come into our lives and make them so much richer and better. These fortuitous moments change the course of our life forever, make us better humans. That's how meeting Molly feels to me. I absolutely feel that our best-friendshipness has changed while making I Don't Care. It was scary at the beginning but so worth it. This book could have broken us, but it just made us stronger friends and better bookmakers too.
Did working with a partner change your artistic process in any way?
Martinez-Neal: I knew that Molly and I were both planners, but making the book showed me how good of a planner and organizer Molly is. Thanks to her, we limited the amount of art trading to a minimum. When I work, I get lost in (and sidetracked by) the emotions of the book and each spread. I could forget the big picture and deadlines. These art swaps kept us focused and on a schedule.
Idle: I may be the queen of planning, but you, Juana, are the queen of getting things done. I can get so hung up on planning the minutiae of how best to do something that I put off doing anything. Working together--seeing how fearlessly you dive into a piece--helped get me out of my head, into my heart and onto the page.
What do you hope readers will learn from this story?
Martinez-Neal: It is my hope that readers learn that to love a friend is to embrace them as they are.
Is it fair to expect another collaboration in the future? I'm afraid this book has made me greedy.
Martinez-Neal & Idle: We're so excited to say that we've just signed on to create two more stories together with Neal Porter Books at Holiday House. --Jaclyn Fulwood, blogger at Infinite Reads