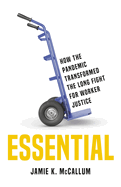 During the early months of the coronavirus pandemic, essential workers in health care, food service and other industries were often applauded, sometimes literally. But the pandemic exposed the fault lines in a system designed to take advantage of low-wage workers. In his third book, Essential, sociologist and activist Jamie K. McCallum (Worked Over) delves into the struggles faced by such essential workers as a result of Covid-19, and places their strikes, protests and other actions in context of the long history of U.S. labor organizing.
McCallum begins with familiar facts: essential workers kept the country, and the world, going after millions of people were urged to stay home. Many of them--disproportionately women and people of color--were already struggling, economically and financially. He goes on to consider workers' efforts to improve their situations: striking, using unions as a tool for collective bargaining, using creative tactics to get their bosses to pay attention.
Furthermore, McCallum takes readers through the last hundred or so years of labor relations in the U.S., from well-known incidents like the Triangle Shirtwaist Factory fire to more recent events like some Amazon workers forming unions. Through research and interviews, he illuminates the experiences of grocery-store workers, health-care aides, food distributors and teachers, while calling to account the politicians who consistently siphon money away from vital industries and their workers.
Insightful, thought-provoking and peppered with helpful statistics and charts, Essential is both a clarion call to improve the lives of the working class and a primer on how their prosperity--or lack of it--is tied to the fate of all Americans. --Katie Noah Gibson, blogger at Cakes, Tea and Dreams