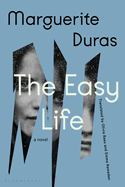 Nearly 80 years after its publication in France, The Easy Life by Marguerite Duras is now available for the first time in English, thanks to translators Emma Ramadan and Olivia Baes. It's a dark and ruminative novel that displays Duras's talent for creating a memorable narrator and then sustaining considerable tension over the course of what amounts to an extended internal monologue.
Set in rural France, The Easy Life's story is told by Francine "Françou" Veyrenattes, a self-absorbed 25-year-old woman who lives on a farm with her younger brother, Nicolas, and their parents. The novel opens with a shocking act: Nicolas's violent assault on his uncle Jérôme that inflicts a mortal wound on the older man, though he survives in agony for more than a week. It's a prolonged dying that Françou describes in painful detail. Françou wrestles with her guilt over provoking the attack by revealing Jérôme's affair with Clémence, the mother of Nicolas's infant child, just one element of the "chaos" (along with "boredom" one of her favorite words) that surrounds her.
In the novel's second section, Duras makes a radical shift. Françou departs, after another family tragedy, for a beach resort on France's Atlantic coast where in isolation she ruminates in almost hypnotic fashion on the events that have brought her there. Even in this tranquil setting, amid the "blue and hoarse sound of the sea," she becomes enmeshed in another incident involving a sudden fatality.
The Easy Life is anything but easy; it's a compelling portrait of a mind in turmoil and of the relentless, unforgiving demands of a true moral reckoning. --Harvey Freedenberg, freelance reviewer