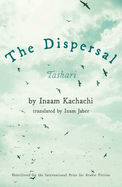 Baghdad-born novelist Inaam Kachachi's haunting The Dispersal is her third title to be shortlisted for the International Prize for Arabic Fiction. Originally published in Beirut, it is dexterously translated by Iraqi poet and writer Inam Jaber.
Dr. Wardiyah Iskander, an Iraqi Christian refugee who arrived in Paris a month earlier, drinks champagne in the Élysée Palace as a special guest of President Nicolas Sarkozy to welcome Pope Benedictus. She wishes she might share the momentous visit with her scattered loved ones. Once upon a time, she was a doctor in a remote Iraqi village, saving countless lives of mothers and babies. She married a fellow doctor who has since died; their children are far-flung, in Canada, Haiti, Dubai. Physical proximity in Paris allows Wardiyah regular visits with her writer niece, a poet ready to publish her collection titled Tashari. Shared storytelling brings Wardiyah closest to her great-nephew Iskander, who becomes inspired to virtually connect the living and the dead.
Tashari, also the novel's original title, means "the birdshot that explodes in several directions" in colloquial Iraqi, Kachachi (The American Granddaughter) explained in a 2014 ArabLit magazine interview: "I could not find a word more expressive of the current Iraqi diaspora." Kachachi lyrically encapsulates such forced ejections through generations of a single Iraqi family.
During Wardiyah's 80 years, various prongs of her extended family have been able to survive--some thrive, and others do not--only by escaping a homeland sundered by religion, corruption, politics and war. Kachachi interweaves glimpses of those histories into Wardiyah's own journey out--presented in introspective and elliptical fragments that are ultimately satisfying for careful readers. --Terry Hong, BookDragon