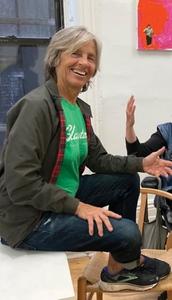 photo: Hannah Beerman
Eileen Myles is a poet, novelist and art journalist known for first-person vernacular writing in a variety of genres. They are the author of Evolution and Afterglow. In Pathetic Literature (Grove Press), they curate an anthology of 106 pieces, from poetry to prose, that examine pathos and feeling in lesser-known works by the likes of Jorge Luis Borges, Rumi, Kafka and Gwendolyn Brooks. It is the 23rd book Myles has published since the late '70s.
Handsell readers your book:
The world is ready for a book about belonging. Pathetic Literature is unified by being itself while unafraid of seeming way too much or not enough.
On your nightstand now:
Fernando Flores's Tears of the Trufflepig lives on the top of my table by the couch. It is so grounded in a south Texas reality while blasting us into an alternative not-so-future reality that is frightening in its precise detail around what science could do with genetics like even next week. He's such a good writer.
Alice Fulton's Coloratura on a Silence Found in Many Expressive Systems is hanging out there. It's rich, slow, kind of cornered and then flinging-open work.
Favorite book when you were a child:
Little Women. It was the only one that had a female writer, Jo, in it and she had her own room.
Your top five authors:
Violette Leduc who wrote La Batarde, which may be my favorite book about female unloveliness and mother attachment and sophistication and writing. She hovers between poetry and prose like a helicopter.
Maud Martha by Gwendolyn Brooks teaches anyone how to write a new novel. She paces her world step by step, placing feeling in all the cabinets and vanities and grimaces and love. It's a full and entirely alive and delicately strong book. It's a poet's novel, many of my favorite works of prose are.
Henry Miller saved my life by writing about Brooklyn and working-class reality and becoming an artist and writing about sex with such abandon and merging poetry with narrative and sex writing and suggesting women actually like sex. I'm thinking Tropic of Capricorn and Tropic of Cancer.
Can Xue has written Dialogues in Paradise and Love in the New Millennium and many more books. She proceeds with an earnest kind of telling dropping natural surrealism in with a daily philosophy. Her magic as a writer is that she looks really close and reports what she sees. The world is strange and suffering and that fact can produce remarkable results.
I just discovered Sandro Penna, an Italian poet of the 1930s to '70s. He is openly sweetly homosexual and he mixes bodies in with landscape and a relaxed pensive sense of time.
Book you've faked reading:
I pretended to read Crime and Punishment by Fyodor Dostoevsky and I didn't see the need for all the philosophy and ranting but I was pretty young. I never read what I don't want to read now. It's the most free I get.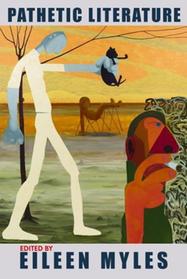 Book you're an evangelist for:
Fifteen Dogs by André Alexis. He created such a simple and exalted premise for a book and then realized it so exquisitely. It's one of my favorite books and when I published my own dog book (Afterglow) I couldn't stop talking about his.
Book you've bought for the cover:
I think there were such books but I don't remember what they were. I don't think they stuck around.
Book you hid from your parents:
I hid Fanny Hill from my mother. It's possible I stole it from my brother, but it was certainly the dirtiest book I had read thus far in my life, which I think was high school.
Book that changed your life:
Yukio Mishima's Confessions of a Mask changed my life. He explored his sexuality in such a poetic magical way and, through our mutual obsession with Joan of Arc, he explained obsession for me by indicating it was what I was doing, and that obsession had a relationship to writing. And reading.
Favorite line from a book:
"I didn't ask to be born," is my favorite line from a book and it is the first line of Henry Miller's Tropic of Capricorn or the first line I remember.
Five books you'll never part with:
Kristín Ómarsdóttir's Children in Reindeer Woods. It's like a wartime fairy tale told in such simple lucid colorful prose.
I will never part with Love by Angela Carter. It's a perfect novella, slightly psychedelic, its portrayal of the '60s almost makes it a historical novel and it's complete yet short.
I will never part with James Schuyler's Freely Espousing because it jingles and paints and does everything writing does in the youngest newest possible way.
I will never give up Carmen Boullosa's Texas: The Great Theft. It's sprawling like the Robert Altman movie Nashville. It's operatic and slips into poetic tales of life and death, it tells about an absolute time at the border before it was and everything was conspiring and breaking.
I will never give up Qiu Miaojin's Last Words from Montmartre, which is like Chris Kraus's I Love Dick, a perfect action of a book. Though in Qiu's case the punctuation on such explodingly well-expressed feeling was to end her own life.
Book you most want to read again for the first time:
Nightwood by Djuna Barnes. It's the most perfect book I ever read though it contains some extremely offensive stuff. It's the same thing with William Burroughs's Naked Lunch which is also a gorgeous abomination.
Books that didn't fit in the categories above:
Samuel Delany's Stars in My Pockets Like Grains of Sand that explained morning in space going around a planet seeing dawn again and again.
Rae Armantrout's Conjure just killed me with its absolute attentiveness to the shifts of consciousness and matter in tiny tiny language.
Edwin Mullhouse by Steven Millhauser because it invents childhood in writing and shows how cartoons invented language.
2666 by Roberto Bolaño is a total masterpiece, especially the frightening middle volume, and I'm glad a man had the courage to write that entirety of what was undoubtedly done by men to these women.
Fred Moten's The Feel Trio is still one of my favorite collections of poetry. It's wildly internal yet full of song.