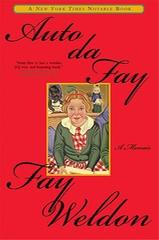 English author Fay Weldon, "who chronicled the ups and downs of British life in novels, TV dramas, plays and short fiction for more than five decades," died January 4 at age 91, the Guardian reported. In more than 30 novels, including The Life and Loves of a She-Devil, Splitting and the Booker Prize-shortlisted Praxis, Weldon "charted lives shaped by class and the sexual revolution.... The sharp dialogue, scathing wit and satirical energy of her fiction were forged in the world of stage and television, where her screenwriting credits included ITV's Upstairs Downstairs and an adaptation of Pride and Prejudice for the BBC."

Weldon began her career writing scripts for radio and television, contributing to series such as ITV's Armchair Theatre and BBC's Wednesday Play. An ITV drama, The Fat Woman's Joke, would become her first novel, published in 1967. Four more novels appeared over the following decade, as well as a series of plays for stage and screen. Her sixth novel, Praxis, was published in 1978 and earned her an appearance on the Booker prize shortlist. Auto da Fay, her autobiography, was released in 2002.

Weldon's best-known novel, The Life and Loves of a She-Devil, was published in 1983. The Observer called it her "nastiest novel so far... the most mutilating kind of satire, whose only 'point' is to bring you up against the bars of your cage." The BBC adapted the book for TV in 1986, and a film version starring Meryl Streep and Roseanne Barr was released in 1989. The Death of a She-Devil, a follow-up to her 1983 novel, was published by Head of Zeus in 2017.

Author Jenny Colgan, writing in the Guardian, recalled: "Fay was noisy in an era when women were expected to be quiet. She used her voice and took up space; she said what she felt, she brought energy and fun. And she was, as her book festival audiences could doubtless confirm, that very best and most attractive type of person: someone who is utterly, fearlessly and for ever true to themselves, to hell with the consequences. We will miss her."