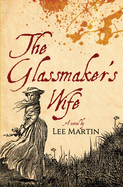 In a haunting novel of desire, deception, tragedy and, ultimately, forgiveness, a teenage girl's quest for belonging places her in the center of a sensational murder trial in 1844 Heathsville, Ill. Eveline Deal recalls her part in that fateful summer in The Glassmaker's Wife by Pulitzer Prize-winner Lee Martin (The Bright Forever; Yours, Jean; The Mutual UFO Network), based on the true story of one of the first women executed by hanging in the United States.
Eveline, an impressionable 15-year-old, and her mother barely get by after her "lowlife" father leaves, but she finds the comfort of a happy home in her role as hired girl at the house of Leonard and Elizabeth Reed. After chores, she and the beautiful "Miss Betsey" read from Godey's Lady's Book, and "the Mister" invites her to learn his glassblowing craft. But Eveline is also burdened by the couple's secrets, including Betsey's flirtations with a shopkeeper. When the Mister dies suddenly and the coroner rules it poisoning, Betsey is charged with murder and Eveline is a key witness. Did she see Mrs. Reed add a powder to her husband's coffee?
Eveline, who sincerely believes in the anticipated Ascension to Heaven, is faced with the truth that what she says--and doesn't--will determine Betsey's fate and her own reputation. Abundant imagery and the dialect of small-town America in the 1840s combine with a credible mystery that involves the chemistry of lethal elements and human motivation. In despair, young Eveline knows "everything she did or didn't do, everything she allowed--it all touched the lives of those around her." Martin writes with sympathy for those lives, too. --Cheryl McKeon, Book House of Stuyvesant Plaza, Albany, N.Y.