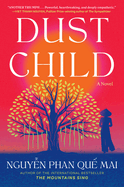 Vietnamese poet, nonfiction writer and translator Nguyễn Phan Quế Mai's first novel in English, The Mountains Sing, was an internationally lauded bestseller. Her sophomore title, Dust Child, which began as her Ph.D. thesis, is an emotional story that follows families from opposite sides of the globe, traumatized by war and its aftereffects.
Nguyễn introduces 18-year-old Trang and 17-year-old Quỳnh, sisters struggling to repay their parents' staggering debt to violent moneylenders in 1969. When a childhood friend returns to their village with stories of high-paying Sài Gòn office work, both sisters follow her to the city. They join her at the Hollywood Bar, catering to U.S. servicemen. To live through war comes at a high price.
Arriving in Hồ Chí Minh City in 2016 are veteran Dan and his wife, Linda. Being engaged to Linda when he served in Việt Nam didn't prevent him from loving, impregnating and deserting local bar girl Kim. Knowing nothing about Kim, Linda has convinced Dan that returning to now-peaceful Việt Nam will help him face his never-ending terrors. The couple meet Phong, whose father was a Black American soldier and whose immigration application through the Amerasian Homecoming Act was again denied. In hearing about Phong's life, tragic as it's been as a mixed-race orphan--a "dust child"--with an obvious "enemy" father, Dan hopes he might learn more about his own abandoned child. Surprising revelations are guaranteed.
Nguyễn moves the narrative smoothly over 50 years. Through compelling multilayered fiction, she intimately humanizes war's victims, regardless of nationalities. Dust Child reclaims lives too long overlooked. --Terry Hong, BookDragon