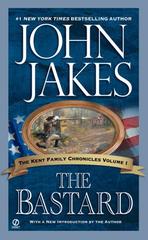 Author John Jakes, a "writer of historical fiction whose generational family sagas of the American Revolution and the Civil War mingled real and imaginary characters and became runaway bestsellers and popular television fare," died March 11 at age 90, the New York Times reported. Jakes wrote about 60 novels, including westerns, mysteries, science fiction, fantasy and children's books. He was best known for two book series: the Kent Family Chronicles, eight volumes written in the 1970s to capitalize on the 1976 Bicentennial celebrations (55 million copies were sold), and the North and South Civil War trilogy, which was released in the 1980s (10 million copies).

Jakes began his career freelance writing in his spare time while working in advertising from 1954 to 1971. He published hundreds of short stories and wrote novels, primarily westerns and fantasies, some under the pen names Jay Scotland and Alan Payne. His breakthrough came in 1974 with the publication of The Bastard, the first volume of what would be the Kent Family Chronicles. Other books in the series include The Rebels, The Seekers (both 1975), which were adapted for television as mini-series in 1978 and 1979; as well as The Furies, The Titans (both 1976), The Warriors (1977), The Lawless (1978) and The Americans (1979).

"I feel a real responsibility to my readers," Jakes told the Washington Post in 1982. "I began to realize about two or three books into the Kent series that I was the only source of history that some of these people had ever had. Maybe they'll never read a Barbara Tuchman book--but down at the Kmart they'll pick up one of mine."

His success prompted Harcourt Brace Jovanovich to commission a Civil War-era hardcover trilogy that included North and South (1982), Love and War (1984) and Heaven and Hell (1987). Another mini-series was adapted from those books.

By the 1990s, Jakes "had joined the charmed circle of America's big-name authors--among them Mary Higgins Clark, Tom Wolfe, James Clavell, Thomas Harris and Ira Levin--whose publishers paid millions in advances for multi-book deals, although they had only vague ideas what the books might say," the Times noted. Random House paid Jakes a $4 million advance for the bestseller California Gold. A $10 million advance a year later produced the two-volume Crown Family Saga as well as In the Big Country (1993), a collection of his stories set in the American West.

"I love melodrama," he once told the Times in an interview. "I never outgrew my fondness for melodrama."