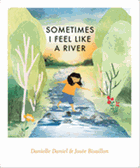 Canadian author and painter Danielle Daniel's immersive Sometimes I Feel Like a River is a companion to her 2015 award-winning Sometimes I Feel Like a Fox. Fellow Canadian artist Josée Bisaillon (Out into the Big Wide Lake illustrator) enhances Daniel's dozen poems with whimsical, welcoming spreads of marvelous landscapes, populated by children reflecting notably diverse backgrounds. Words and images work synchronously to inspire both quiet explorations and exciting adventures.
"Sometimes I feel like the sun," Daniel begins, "bright and early rising./ I shine my light upon the earth/ while birds joyfully sing." A child in a yellow-striped shirt and bright orange boots, flanked by stylized wildflowers, watches the sunrise across open water. Birds fly above distant rooftops, a seal surfaces as if in greeting. The reader's perspective invitingly mirrors that of the child's, looking out from over the child's shoulder.
As pages progress, the beckoning experiences continue: kayaking in "a river,/ bending and flowing fast"; climbing "a mountain,/ mighty and strong"; soaking in "the rain,/ cool and most refreshing"; swimming through "an ocean,/ deep and mysterious." At adventure's end, Daniel encourages readers to go for their own "mindful walk or roll"--an inclusive nod to wheelchair-dependent mobility--"under the beautiful sky." Her author's note emphasizes our connections to the natural world, which also includes each other.
Daniel and Bisaillon's splendid collaboration proves to be a powerful invitation to breathe in the great outdoors and "to celebrate and champion" nature with eyes, ears and grateful hearts. --Terry Hong, BookDragon